Foundry Square
 by 
BolognaFiere 23-25 November 2021
Pad. 26 B100
A training and exhibition area promoted by METEF, supported by the associations AIM, Assofond, FACE and authoritative brands in the sector, which focuses the spotlight on light alloy foundry castings and the recycling of aluminium, a young metal that is increasingly driving industry, research and innovation.
The light alloy casting foundry is a sector in which the Italian entrepreneurial fabric, mainly made up of small and medium-sized companies, plays a leading role in the global market with competence, experience and creativity. It is a segment that for a long time remained little considered by metallurgical and technological research, but today it occupies leading positions due to developments in new production techniques, optimization of plant engineering, digitalization and attention to quality, with the push of the automotive industry, in search of increasingly advanced solutions.
Thanks to the participation of leading players in the sector, a rich program of meetings and opportunities for in-depth analysis of current issues for the sector will be proposed, from automotive components in aluminium structural castings, to new foundry alloys studied at universities, to the great opportunities offered by recovery and recycling, to the problems linked to decarbonisation costs, highlighting the synergies between industries, universities, associations and end users.
The Foundry Square is a taste of the Italian potential in the sector and is a first step towards an even closer collaboration between MecSpe and Metef that will lead to the realization of the two events in parallel, always in Bologna, in 2022.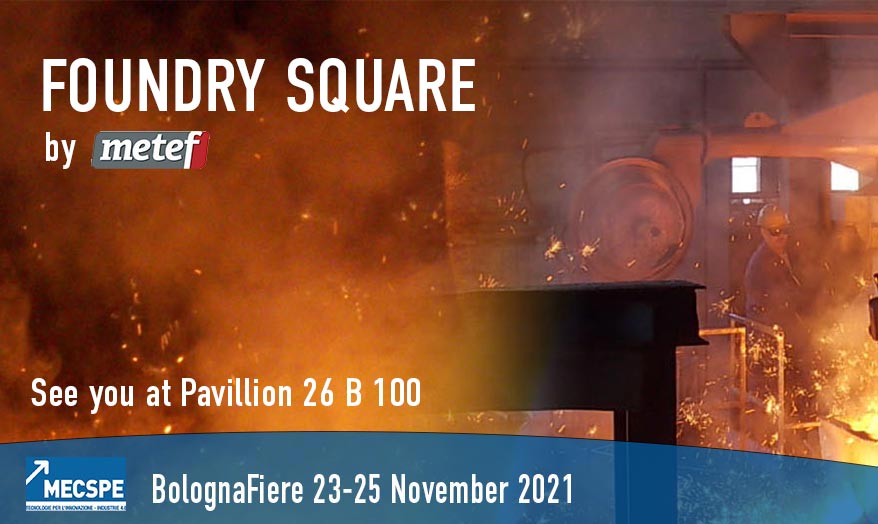 List of Speakers
23rd November 2021
10:30-11:00
– Recycled primary aluminium alloys for the production of eco-sustainable components
(Ruggero Zambelli – Raffmetal)
11:05-11:35
– Case History: Eco-sustainability of diecasting processes
(Alessandro Garlet – EDiM-Bosch Group)
11:40-12:10
– Carbon Border Adjustment Mechanism (CBAM) and Aluminium: a question to be evaluated very carefully
(Roger Bertozzi – FACE-Federation of Aluminium Consumers in Europe)
14:00-14:30
– Preparing human capital for the future of the aluminium industry
(Gabriele Ceselin – AQM)
14:35-15:05
– Trimming: how to transform a structural casting into a semifinished component
(Ruggero Pederzoli – Meccanica Pi.Erre)
15:10-15:40
– Die-casting tomography
(Gabriele Ceselin – AQM)
15:45-16:15
The Italian productive engine pre and post pandemic
(Melissa Malandra – Malandra)
24th November 2021
10:30-11:00
The decarbonisation challenge for Italian foundries
(Andrea Bianchi – Assofond)
11:10-11:40
– ROCK FLUX /QUICK FLUX – Systems to reduce slag in large aluminium furnaces
(Maurizio Sala – Foundry Ecocer)
11:45-12:15
– Trimming: how to transform a structural casting into a semifinished component
(Ruggero Pederzoli – Meccanica Pi.Erre)
14:00-14:25
Digitalisation in die-casting: present and future
(Gabriele Zanetti – CSMT Polo Tecnologico)
14:30-15:00
– SALEMA Project (Substitution of Critical Raw Materials on Aluminium alloys for Electric Vehicles
(Franco Bonollo – University of Padua)
15:05-15:35
– Case History: Eco-sustainability of diecasting processes
(Alessandro Garlet – EDiM-Bosch Group)
15:40-16:10
The Italian productive engine pre and post pandemic
(Melissa Malandra – Malandra)
25th November 2021
10:00-10:30
– Structural diecastings of large dimensions for the automotive of tomorrow
(Riccardo Ferrario – Idra Group)
10:35-11:05
– Aluminium alloy castings for structural frames and engines of the future
(Enio Gritti – FMB-OMR Group)
11:10-11:40
– LCFP – Low Carbon Foot Print Aluminium: Not just automotive
(Claudio Mus – Endurance)
11:45-12:15
– Preparing human capital for the future of the aluminium industry
(Nadia Zilio – AQM)
14:00-14:30
The Italian productive engine pre and post pandemic
(Melissa Malandra – Malandra)