An award to valorise the innovative content proposed by companies
The International Innovation Award is an initiative organized by Metef which aims to reward the most innovative proposals submitted by companies, relating to innovations in plants, technologies, products and applications in aluminium and its alloys.
The prize, which will be awarded to the winners on the first day of the exhibition, will be divided into six different categories – materials – machines and plants – technologies and processes – products, components and systems – applications – other – and will be awarded by a jury of specialists, who will evaluate the applications on the basis of the degree of originality and the competitive advantages that the innovations are able to offer, favoring the aspects of energy saving, eco-sustainability and safeguarding of resources. A special prize will also be awarded to the decarbonization projects of the company system as a whole.
The awarding ceremony for the winning companies will take place on 31st of march in CUORE MOSTRA area in MECSPE.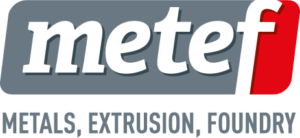 Categories of the award
The International Innovation Award intends to give a prize for the best examples of innovation applied to the production, transformation, machining and use of metal products or components, realized in each of the following categories:
• materials
• machinery and plants
• technologies and processes
• products, components, systems
• applications
• decarbonization projects of the overall company system
• other

Proposals at the prototype stage or projects will also be considered.
Conditions of partecipation
Participation in the contest is free and open to all the Italian and International companies of the aluminium sector
---
The deadline for submitting the application form and documentation to take part in the contest is 20th February 2023
Jury and assignment of the award
A Jury of experts will assign, at its own discretion, the innovation award to the winning companies from each of the abovementioned categories. The Jury will also give a special mention to one or more company deserving recognition for the attention given to innovation.