PIAZZA MECH by Clust-ER MECH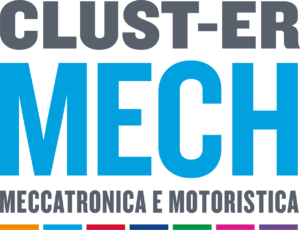 The Mechatronics and Advanced manufacturing Clust-ER (Clust-ER MECH) is an association of over 130 companies, research centres and training bodies, sharing skills, ideas and resources to support competitiveness and innovation in the advanced manufacturing sector.
The association is a multiplier of innovation opportunities thanks to the synergy between the private and public sectors and to the continuous collaboration with the regional government, with the aim to develop strategic projects and actions and to promote the main supply chains of Emilia-Romagna, also at international level.
From March 29th to 31st, Clust-ER MECH will manage "Piazza MECH", a multifunctional space that features exhibition and meeting areas and that will host 11 of Clust-ER's members. The space is also equipped with a designated speaking area where presentations and workshops will be organized for the whole duration of the event.
Please find below the list of Clust-ER MECH's partners that will be present during the 3-day fair: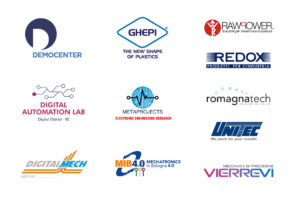 11:00 – 11:30
L'Intelligenza Artificiale applicata all'Industria manifatturiera
Organizzato da: Clust-ER MECH e Associazione Meccanica
12:00 – 12:30
Tecnologie innovative per la selezione della qualità e la riduzione dello spreco di frutta e verdura
Organizzato da: Unitec S.p.A.
14:00 – 14:30
Dalle batterie ai supercondensatori. Tecnologie abilitanti per la mobilità del sostenibile.
Organizzato da: Fondazione Democenter
15:00 – 15:30
Tauanito: Comfort Living Technology – Sensore Universale Iot per Applicazioni Industriali e su Larga Scala
Organizzato da: MIB srl
11:00 – 11:30
Polimeri per applicazioni ingegneristiche: sinergia fra Prestazioni e Sostenibilità  
Organizzato da: Ghepi S.r.l.
12:00 – 12:30
La Metrologia integrata con la Produzione, dal DigitalTwin alla realtà in un unico Processo Digitale
Organizzato da: DIGITALMECH SRL
14:00 – 14:30
L'evoluzione dei sensori industriali: impiego dell'intelligenza artificiale embedded
Organizzato da: Redox
15:00 – 15:30
Modellazione Termica per Drive ad Alte Prestazioni: Dispositivi Wide Band Gap e Motori Elettrici
Organizzato da: Raw Power Srl
11:00 – 11:30
Progetto EXADRONE – Centro Ricerche Brasimone ENEA METAPROJETS
Organizzato da: METAPROJECTS
12:00 – 12:30
Vision, Bin picking & Sensing per la manifattura avanzata
Organizzato da: Digital Automation Lab di Fondazione REI
14:00 – 14:30
Led&Pro by Romagna Tech, il laboratorio di eco-design, progettazione e prototipazione
Organizzato da: Romagna Tech S.C.p.A.
15:00 – 15:30
Evoluzione di un servizio all'avanguardia nella meccanica di precisione
Organizzato da: VIERREVI SRL