The manufacturing industry community meets at MECSPE 2023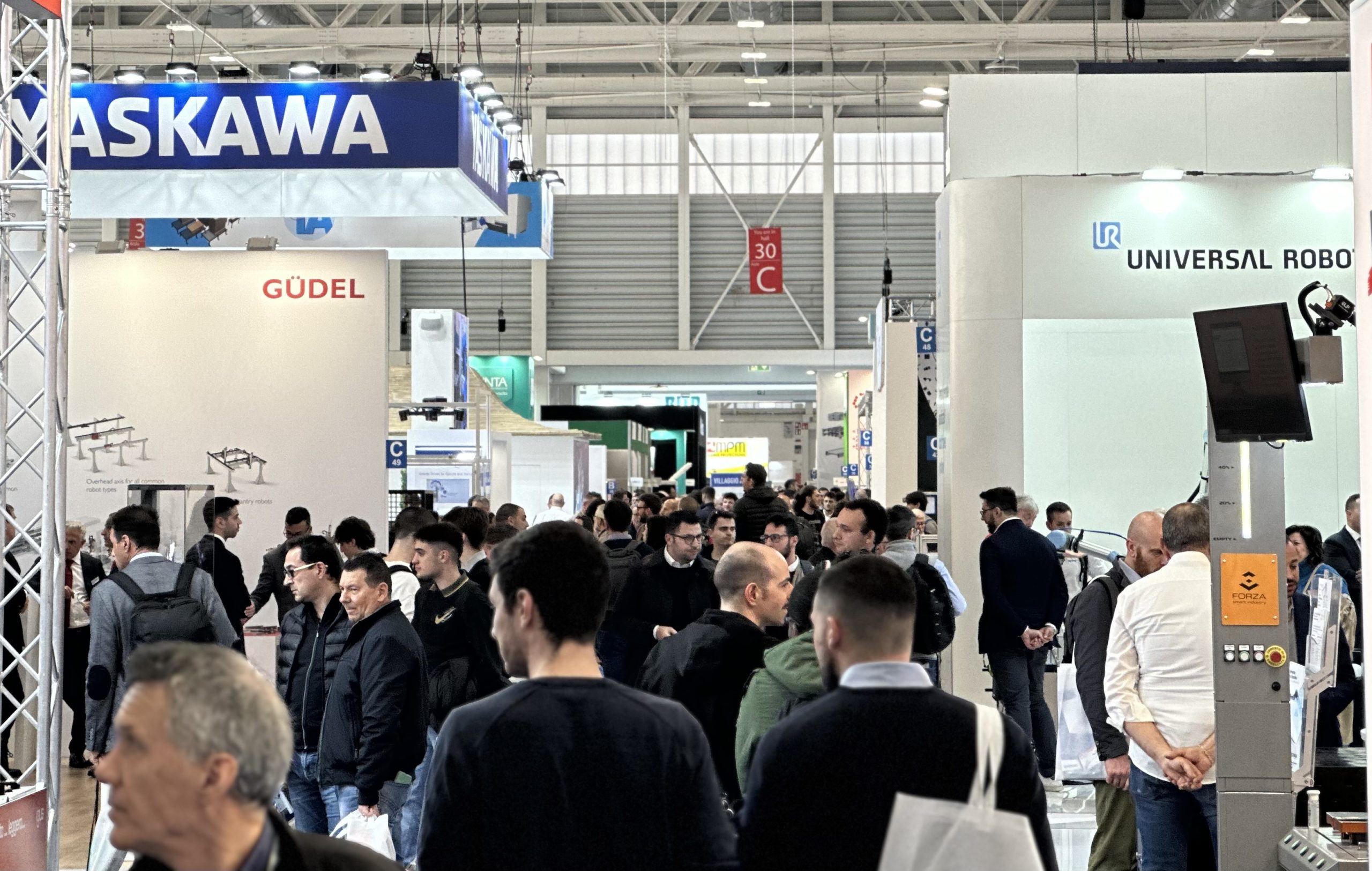 The manufacturing industry community meets at MECSPE 2023: +52% over 2022 for a total of 59.845 trade visitors. Three days of full immersion in technological innovation and energy transition

---
The next edition of MECSPE will be held in Bari from Nov. 23-25, 2023, and then back to Bologna next year, March 6-8.
Bologna, April 3, 2023 – A journey into the future of industry among new technologies, energy transition and digital transformation. The 21st edition of MECSPE, Italy's leading trade exhibition dedicated to the manufacturing industry, organized by Senaf, closed with a boom in visitors. There were 59,845,000 professionals (+52 percent over 2022) who filled the pavilions of BolognaFiere in the three-day event designed to celebrate the excellence of the sector, multiply business opportunities for companies and create new connections between companies, institutions and industry players. A success that involved not only Italian companies, but also international ones, with the presence of as many as nine delegations of visitors from foreign countries (Algeria, Egypt, Germany, India, Morocco, Poland, Switzerland, Tunisia, Turkey) in addition to the first Italo-German Summit on the themes of reshoring and new mobility. Now MECSPE is looking ahead to the next edition, which will see the event land in Bari, Italy, at the Fiera del Levante, Nov. 23-25, 2023. It is scheduled to return to Bologna to continue the exhibitions' internationalization strategy from March 6 to 8, 2024.
The 2023 edition of MECSPE, which featured 2,034 exhibitors and 20 special initiatives, opened with an inaugural event attended by, among others, Maurizio Marchesini,  Confindustria Vice President for Supply Chains and Medium Enterprises. It was an opportunity to present data from the MECSPE Observatory, which certified the excellent state of health of the supply chain: almost eight out of ten companies closed the last four months of 2022 with a growing or stable turnover compared to the same period last year, to which is added the high level of satisfaction related to the performance of their company (positive for 68 percent of the sample). In addition, half of the companies believe they have the skills needed for the 4.0 transformation. A major challenge that will contribute a projected 385,330 new employees[1] between now and the end of May.
"The transitions the industry is facing, in Italy as in the rest of the world, will change the face of the supply chain," commented  Ivo Alfonso Nardella, president of Senaf. That is why we are especially proud of the large influx of visitors to MECSPE, which is increasingly a landmark for the community of manufacturing systems professionals. Special thanks go to the Emilia Romagna Region and the city of Bologna, which, by virtue of its connections and infrastructure, fosters the growth of MECSPE internationally. With this year's edition, we opened a window on the future of manufacturing, accompanying institutions, companies and professionals to discover the most interesting innovations and technologies that can make a difference. Our exhibition is designed to foster collaboration among companies through the many networking opportunities, but it is also a unique time to create culture, to support that education without which it is impossible to interpret and govern the great changes that await us. Before returning to Bologna in 2024, MECSPE will be in Bari in November this year, with the aim of actively involving also the many excellences of Central and Southern Italy, which can make an important contribution to the challenges facing the industry."
"The Mecspe exhibition has not only consolidated its value of international interest, but has delivered the highest quality level for those who want to discuss, learn about and represent the innovative evolution of our country's manufacturing system. – Emphasized Vincenzo Colla, Councillor for productive development and green economy, labor and training of the Emilia Romagna Region – We want to thank the organizers, the exhibitors of Mecspe for the quality they brought to the three-day event; we are proud to host an event of great quality in Bologna."
Training, innovation and sustainability were the focal elements of the exhibition and demonstration areas of MECSPE 2023. It was precisely to the impact on production systems of new sustainable mobility choices that the exhibition core of the fair was dedicated, a 2,000-square-meter exhibition area entitled Energy Transition and Future Mobility, which, with a focus on the production chains of electric, hydrogen and biofuel vehicles, was well attended. Also on the topic of sustainable mobility, MECSPE organized the international forum "2035 AND THE AUTOMOTIVE CHAIN: Changing the Production Model to Respond to a Technological Transformation, "in cooperation with the Tecniche Nuove Group, The German-Italian Chamber of Commerce , and the Industrial Fairs Division of Messe Stuttgart.
A great result for the first edition of Elettronica Italia, was the show held concurrently with MECSPE, which garnered strong interest from visiting companies thanks to its two focuses, on electronics in sustainable mobility and semiconductors, with important growth potential for the future. Extraordinary participation also for the two events organized by METEF: the Aluminium Energy Summit, among the most successful moments of the exhibition heart, and the International Innovation Award, both dedicated to an element that in Italy constitutes 42 percent of all metal used annually. Talking of awards, the Solution Award – Robotics Innovation Award for the best industrial or service robotics application made by Italian companies was particularly followed.
Facts and figures of MECSPE 2023
59.845 visitors operating in trade sector +52 percent compared with 2022), 92,000 sq m of exhibition space, 2 ,000 companies present, 2,034 sq m of the Heart Exhibition 'Energy Transition and Mobility of the Future', 20 special initiatives.
MECSPE Exhibitions
Machines and Tools – Machine tools, Equipment, Tools and Design Software; Machines, Materials and Sheet Metal Working – Bending, Stamping, Cutting, Assembly, Welding, Materials and Software; Digital Factory – Industrial Informatics, IoT, Industrial Sensing, Cloud – manufacturing, Automatic Identification Technologies, Applications, Devices, Instrumentation and Intelligent Components for Process Interpretation and Interconnection; Logistics – Packaging, Packing, Handling, Material handling, Lean manufacturing, Warehouse management software, Supply chain management, Safety systems, PPE, Outsourcing; Mechanical Subcontracting – Precision mechanical processing, Metal carpentry, Mechanical construction, Fasteners, Foundries, Small parts, Wire processing, Contract industrial processing, Micromachining; Electronic subcontracting – Cem (contract electronics manufacturer), Wiring harnesses, Ems (electronics manufacturing service), PCB (printed circuit board manufacturers), Engineering and design offices; Eurostampi, Machines and plastic, rubber and composites subcontracting – Plastics, rubber and composites processing, Machines and plants, Auxiliary equipment, Innovative materials, Moulding, Extrusion, Packaging, Blowing, Moulds, Models, Standardized components for molds, Design, Simulation and design software, Micromachining; Additive Manufacturing – 3D printing, Rapid prototyping, Rapid Manufacturing, Systems and services for reverse engineering, Additive technology, Materials, Services, Hardware: 3D printers and scanners, accessories, Simulation and design software; Treatments and Finishes – Surface Treatment Plants, Furnaces, Electroplating, Chemical and Electronic Processes, Washing, Metallization, Enamelling, Galvanizing, Products and accessories for treatments, Heat Treatments, Painting; Non-Ferrous Materials and Alloys – Processing of non-ferrous materials (Aluminium, Titanium, Magnesium, Light Alloys), Die Castings, Foundries, Contract Industrial Processing, Technologies, Design, Engineering; Automation and Robotics – Automation and Robotics, Assembly, Assembly and Handling; Control and Quality – Certification and quality control, Metrology, Measuring instruments, Laboratory testing, Calibration, Analytical equipment, Vision; Power Drive – Mechanical power transmission devices, Hydraulics, Pneumatics, Mechatronics, Motion control, Maintenance, Compressed air.
For more information visit www.mecspe.com.
For further information
Press Office
MY PR – www.mypr.it
Roberto Grattagliano – cell 338 9291793 e-mail roberto.grattagliano@mypr.it
Stefania Bonetti – cell 340 2513708 email stefania.bonetti@mypr.it
Fabio Micali – cell 340 875 8736 e-mail fabio.micali@mypr.it
[1] Source: Unioncamere-ANPAL, Excelsior Information System