MECSPE 2021: Innovation restarts from BolognaFiere, from 10 to 12 June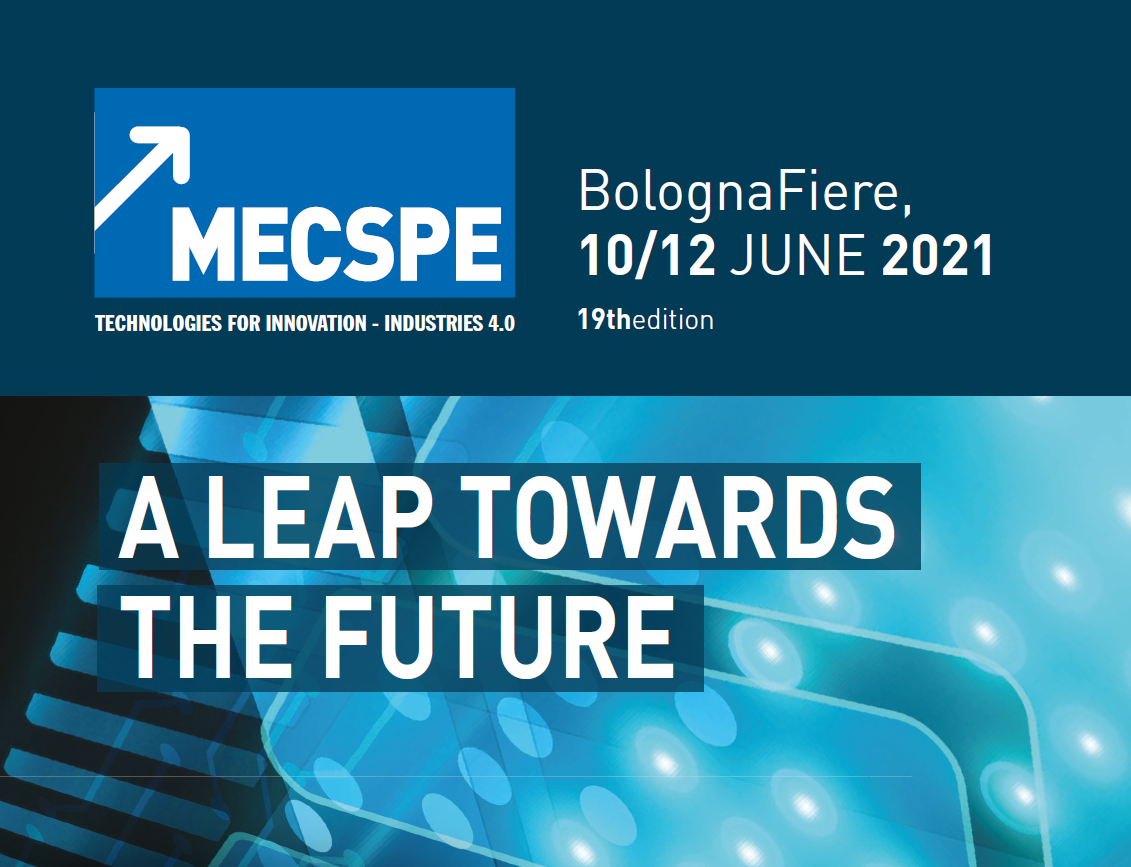 The 20th edition of MECSPE will take place at Bologna's new exhibition centre. This year, Italian small and medium manufacturing enterprises will enjoy an improved offering and increased international connections. An exhibition surface of 375,000 sq.m, 18 pavilions, and 13 halls.
---
Milan, 11 January 2021 – Digitisation, training, and sustainability are key to MECSPE 2021, Italy's most important event dedicated to innovative technologies for manufacturing enterprises that will take place at BolognaFiere, from 10 to 12 June. This 19th edition promoted by Senaf will focus on expansion and internationalisation, which are essential aspects, especially among subcontractors who are more and more involved in the supply chain of top suppliers of major manufacturing brands. Subcontracting will also be another hot topic. In this regard, BolognaFiere will host major third-party service providers specialising in mechanical and electronic machining and plastic transformation processes.
"Small and medium manufacturing enterprises, which are the core of Italy's economy, together with other industry players, have shown resilience during this crisis. This reaction was possible thanks to their investments in innovative technologies – declared Maruska Sabato, Project Manager of MECSPE – The industry is now about to start a new year, and MECSPE is ready to support it and work hard to deliver an edition that sounds of renewal for SMEs, start-ups, associations, higher technical schools, and Universities. "BolognaFiere is its natural location given the event's focus on internationalisation and expansion. This new location will help us be more visible in Italy and abroad, as we will benefit from connections and infrastructures that make Bologna more accessible to visitors."
Restarting Italy's economy is a challenge that must be driven by modernity and innovation, as ISTAT's latest data confirm (+10.8% in 2016-2018) and a new and larger exhibition centre. An exhibition surface of 375,000 sq.m and 18 pavilions to provide an overall view of the industrial production, supply chain, and product sectors (MECSPE flagship). Visitors will be sure to enjoy new experiences and meet their expectations. 13 halls, divided into 4 themed areas dedicated to Machine Tools, Treatments and Finishes and Sheet Metal (Mechanical Area), Electronic and Mechanical Subcontracting, Non-Ferrous Materials, and Alloys (Subcontracting area). Visitors can also take a peek into the future with the Industry 4.0 Area, which includes the following halls: Control Italy, Motek Italy, Power Drive, Logistics, Digital Factory, and Additive Manufacturing. The tour will end with Moulding, Plastic Machinery and Subcontracting, rubber and composites (Plastic, Rubber and Composite area).
The 2021 edition will be the year for Limitless Factory, an event that has always anticipated trends, focusing on demos, interaction, and experiences to show the new concept of human-scale factory. A factory that becomes more attractive and competitive by applying innovative solutions and industry 4.0 digital tools.
For 20 years, MECSPE has been the benchmark event for the manufacturing industry when it comes to innovation. Here, every visitor can discover the latest and most innovative materials, products, and technologies. Save the date! From 10 to 12 June 2021, BolognaFiere will showcase the developments and complexity of these unprecedented times while supporting Italy's SMEs and industrial fabric. Talent, commitment, and creativity will keep being Italy's distinctive feature in the world.
MECSPE 2021 by the numbers:
An exhibition surface of 135,000 sq.m, 56,498 professional visitors, 2,306 attending companies, 2,000 sq.m-Innovation Tunnel in collaboration with Smart Factory Cluster, 67 special events and conferences.
MECSPE Halls
Tools and Machines – Machine tools, Equipment, Tools, Design software; Sheet Metal – Machines, materials and processing – Bending, Printing, Cutting, Assembly, Welding, Materials, Software; Digital Factory – Industrial computing, IoT, Industrial sensors, Cloud-manufacturing, Automatic identification technologies, Applications, devices, instrumentation, and smart components for interpreting and interconnecting processes; Logistics – Wrapping, Packaging, Handling, Material handling, Lean manufacturing, Warehouse management software, Supply chain management, Safety systems, PPE, Outsourcing; Mechanical subcontracting – Precision mechanical processing, Metal carpentry, Mechanical construction, Fasteners, Foundries, Small parts, Wire working, Outsourced industrial processes, Micro-processing; Electronic Subcontracting – CEM (Contract Electronics Manufacturer), Wiring, EMS (Electronics Manufacturing Service), PCB (Printed Circuit Board Manufacturers), Engineering and design firms; Moulds, Machines and plastic, rubber and composite subcontracting – Plastics, rubber, and composite processing, Machines and plants, Auxiliary equipment, innovative materials, Moulding, Extrusion, Packaging, Blow Moulding, Moulds, Models, Normalised parts for moulds, Design, Simulation and design software, Micro-processing; Additive Manufacturing – 3D printing, Rapid prototyping, Rapid manufacturing, Systems and services for reverse engineering, Additive technology, Materials, Services, Hardware: 3D printers and scanners, accessories, Simulation and design software; Treatments and Finishes – Surface treatment systems, Furnaces, Galvanic finishes, Chemical and electronic processes, Washing, Metallising, Glazing, Galvanising, Products and accessories for treatments, Thermal treatments, Painting; Non-ferrous materials and alloys – Processing of non-ferrous materials (Aluminium, Titanium, Magnesium, Light Alloys), Die-casting, Foundries, Outsourced industrial processes, Technologies, Design, Engineering; Motek Italy – Automation and robotics, Assembly, Mounting and handling; Control Italy – Quality certification and control, Metrology, Measurement instruments, Laboratory tests, Calibration, Analysis equipment, Vision systems; Power Drive – Mechanical power transmission systems, Hydraulics, Pneumatics, Mechatronics, Motion control, Maintenance, Compressed air.
For information: www.mecspe.com
For further information
Press office
MY PR – www.mypr.it
Paola Gianderico – Carmelo Abate
Mobile_ +39 331-7623732 Mobile_ +39 340-1409543
---
Sei interessato a esporre alla prossima edizione di Mecspe (BolognaFiere, 23-25 novembre 2021)?
Contact »
---