MECSPE RESTARTS FROM BOLOGNA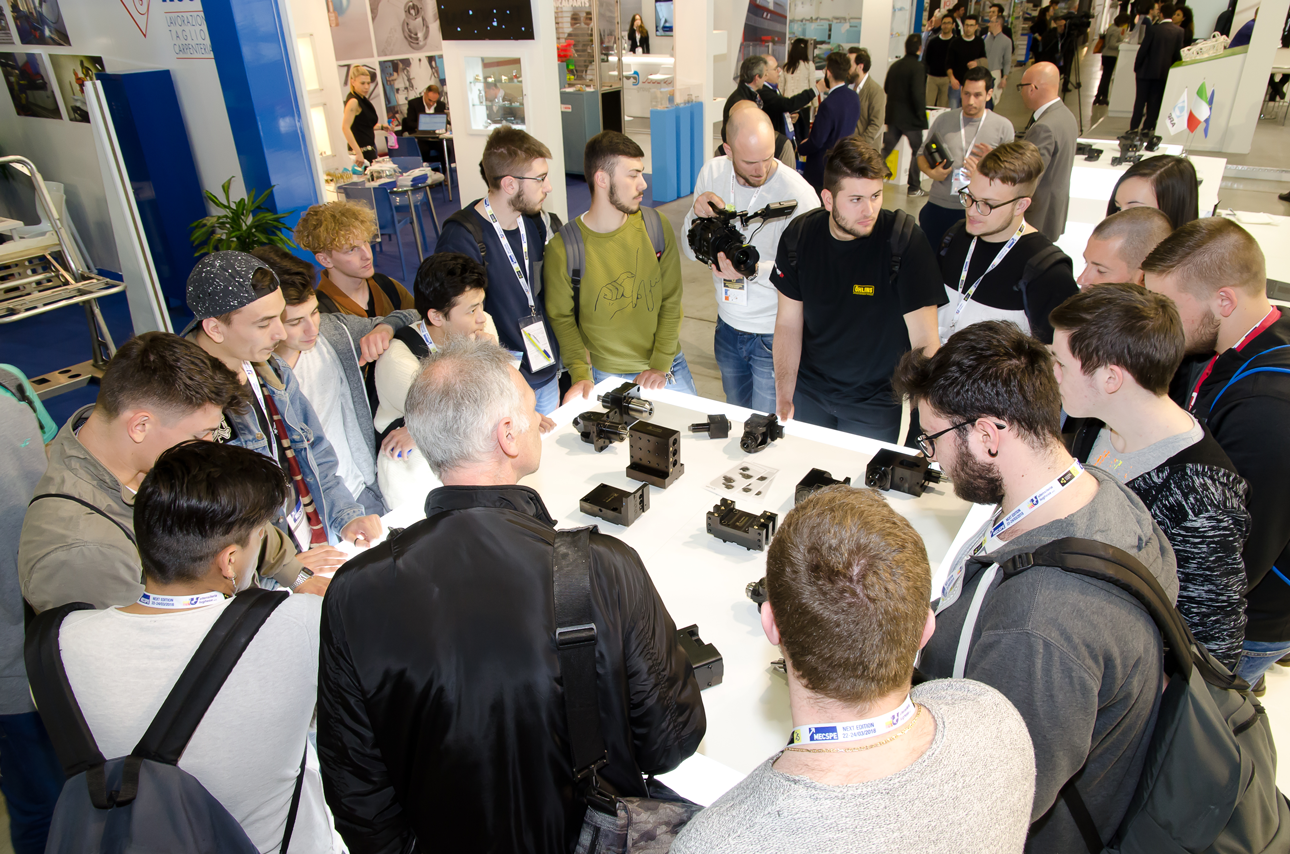 The 19th edition of the leading event dedicated to innovative technologies for the manufacturing sector will take place at BolognaFiere from 23 to 25 November 2021.
1,800 exhibitors, 92,000 sq.m of exhibition surface, 13 halls, 46 special events and conferences to boost this sector's recovery through digitisation, sustainability, and training
Milan, 24 August 2021 – The moment the entire manufacturing industry was expecting is approaching fast. MECSPE's 19th edition will take place from 23 to 25 November at BolognaFiere for the first time. Italy's main event dedicated to innovative technologies for the manufacturing industry returns after a rather complicated year, looking towards the future with optimism.
According to the MECSPE Observatory data for the second quarter of 2021, over 7 companies out of 10 (74%) believe that the sector will boom in the next 3 years, and 69% of companies think they will end the year with a positive sign. Even Istat – the Italian National Institute of Statistics – has recorded increased confidence among companies, which has reached the highest level in July. Moreover, this optimism is increasing and is leading companies to look ahead. The future is also the key concept of Senaf's event, which will focus on three major elements for Italy's manufacturing sector: digitisation, sustainability, and training.
The first MECSPE edition in Bologna will involve more than 1,800 exhibitors. Its 92,000 sq.m exhibition surface includes 18 halls and 13 rooms. Moreover, the programme will include 46 special events and conferences. The event, including the innovative exhibition part, demonstrative units and processing islands, will focus on manufacturing technologies and industrial supply chains.
MECSPE will also be the ideal place where the manufacturing industry can delve deep into the current trends through numerous special initiatives, like Gamification: the limitless factory. Demos and interactive activities will allow exhibitors and visitors to experience the new concept of open factory with increasingly fewer limitations. A smart factory that attracts many young talents, which is what this sector needs to grow. We are facing the 4th industrial revolution, whose benefits must be fostered appropriately. The first signs are clear. According to the MECSPE Observatory, 27% of companies has invested in digitisation due to the Covid situation. However, more effort is needed. Competence Centres, together with the Industry 4.0 plan and the measures implemented by the Italian Ministry of Economic Development, have been established to accompany companies throughout this transition. This year, MECSPE has introduced Piazza Competence Centre to showcase innovative Industry 4.0 projects and delve deep into hot topics, such as 5G, big data, cybersecurity, artificial intelligence, and enjoy orientation and training activities. Training is essential for the manufacturing industry. According to the MECSPE Observatory, 46% of companies have already trained their personnel to complete the Industry 4.0 transformation, whereas 27% don't feel ready yet. Continuous technological progress requires a cultural change to enhance the value of human capital and technological innovation.
Digitisation and training go hand in hand with sustainability. 40% of companies believe to be environmentally friendly. However, knowing all the market's latest offerings is essential to attract investments and improve their reputation. The ECOfriendly initiative – "Io faccio di più" –– will put the spotlight on companies that have adopted sustainable production processes and sell organic or recycled products. The Materioteca Design Area is dedicated to "Blue economy", which takes sustainability to the next level, creating value from waste through scientific and creative solutions.
But there's room for more. The Robotics Innovation Award will return for the sixth consecutive year. This event is organised by Automazione Integrata magazine in partnership with Gellify, a platform that connects B2B start-ups. The Robotics Innovation Award is dedicated to companies, start-ups, universities, research centres, spin-offs (whether single or in a consortium) who own an innovative application as technology providers, system integrators and/or end-users. Startup Factory – another initiative organised in partnership with Gellify – is also dedicated to innovative SMEs. This event aims at connecting start-ups and companies that want to promote their competitiveness and connect with the stakeholders of the manufacturing industry. Finally, the Simulation Summit is Italy's first independent conference dedicated to CAE (Computer-aided engineering) simulation within the industrial sector. Organised in partnership with E-FEM, this event is addressed to CAE users, engineers, mechanics, market players, and stakeholders. The goal is to promote a conscious and effective use of simulation in product development, focusing on future challenges.
Many associations will also attend MECSPE's 2021 edition. For example, TMP (the Italian Association of Plastics Technicians), which sponsors the Piazza with the same name with a few member companies active in various segments, such as polymerisation, mould-making and moulding, compounding, and distribution. AIDAM (the Italian Association of Automation and Mechatronics) sponsors the AIDAM  Village, which will include a roundtable on training and finding new school-company integration models for young mechatronic technicians. Then, there's ASCOMUT (The Italian Association of Machinery, Technology, and Tools), which sponsors the ASCOMUT Village dedicated to importers, subsidiaries of foreign manufacturers and distributors of machines, tools, measuring and control instruments.
MECSPE by the numbers (as per 15 July 2021)
An exhibition surface of 92,000 sq.m, 1,800 exhibitors, 2,000 sq.m dedicated to the Limitless Factory Exhibition, 46 special events and conferences. 50,000 professionals are expected to attend the event in compliance with the Covid safety measures.
MECSPE Halls
Tools and machines – Machine tools, Equipment, Tools, Design software; Machinery, materials and sheet metal working – Bending, Moulding, Cutting, Assembly, Welding, Materials and Software; Digital Factory – Industrial computing, IoT, Industrial sensors, Cloud-manufacturing, Automatic identification technologies, Applications, devices, instrumentation, and smart components for interpreting and interconnecting processes; Logistics – Wrapping, Packaging, Handling, Material handling, Lean manufacturing, Warehouse management software, Supply chain management, Safety systems, PPE, Outsourcing; Mechanical subcontracting – Precision mechanical processing, Metal carpentry, Mechanical construction, Fasteners, Foundries, Small parts, Wire working, Outsourced industrial processes, Micro-processing; Electronic subcontracting – CEM (Contract Electronics Manufacturer), Wiring, EMS (Electronics Manufacturing Service), PCB (Printed Circuit Board Manufacturers), Engineering and design firms; Moulds, Machines and plastic, rubber and composite subcontracting – Plastics, rubber, and composite processing, Machines and plants, Auxiliary equipment, innovative materials, Moulding, Extrusion, Packaging, Blow Moulding, Moulds, Models, Normalised parts for moulds, Design, Simulation and design software, Micro-processing; Additive Manufacturing – 3D printing, Rapid prototyping, Rapid manufacturing, Systems and services for reverse engineering, Additive technology, Materials, Services, Hardware: 3D printers and scanners, accessories, Simulation and design software; Treatments and Finishes – Surface treatment systems, Furnaces, Galvanic finishes, Chemical and electronic processes, Washing, Metallising, Glazing, Galvanising, Products and accessories for treatments, Thermal treatments, Painting; Non-ferrous materials and alloys – Processing of non-ferrous materials (Aluminium, Titanium, Magnesium, Light Alloys), Die-casting, Foundries, Outsourced industrial processes, Technologies, Design, Engineering; Automation and Robotics – Automation and Robotics, Assembly, Mounting and handling; Quality and Control – Quality certification and control, Metrology, Measurement instruments, Laboratory tests, Calibration, Analysis equipment, Vision systems; Power Drive – Mechanical power transmission systems, Hydraulics, Pneumatics, Mechatronics, Motion control, Maintenance, Compressed air.
For information, www.mecspe.com
For further information
Press office
MY PR – www.mypr.it
Roberto Grattagliano – Fabio Micali
mobile ph._ 338 9291793 tel_ 340-8758736
e-mail roberto.grattagliano@mypr.it – fabio.micali@mypr.it