MECSPE rescheduled for Autumn: the event will take place at BolognaFiere from 23rd to 25th November 2021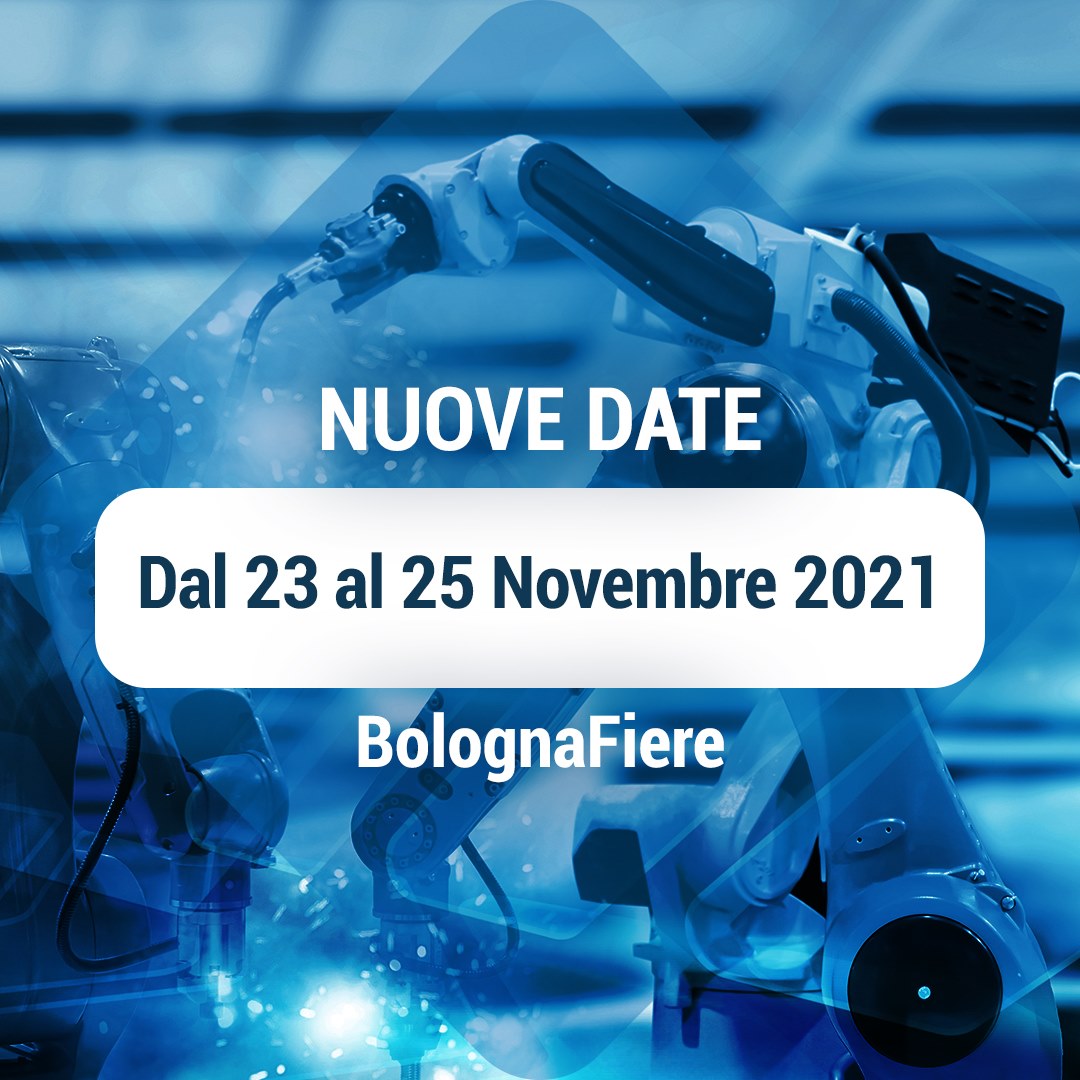 ---
MECSPE RESCHEDULED FOR AUTUMN
The ongoing block of exhibition events, mobility restrictions and a lack of certainty from Institutions leave no choice other than to reschedule: the event will take place at BolognaFiere from 23rd to 25th November 2021.
---
Milan, 13th April 2021 – The 19th edition of MECSPE, Italy's most important event dedicated to innovative technologies for 4.0 manufacturing companies, originally scheduled to take place in BolognaFiere from 10th to 12th June, has been officially postponed to autumn. The rescheduled event will now be held from 23rd to 25th November 2021, in light of the ongoing block of exhibition events, mobility restrictions and a lack of certainty from Institutions. It is with enormous regret that the organisers have made this decision, albeit in everyone's best interests (participants, exhibitors, staff and all those involved).
"After lengthy reflection, despite the immense efforts of the event's organisers, the venue, trade associations and the professional production chain that contributes towards this International Exhibition, much to our regret we have decided to reschedule MECSPE to autumn, from 23rd-25th November 2021, once more at BolognaFiere – Ivo Nardella President of Senaf, Gruppo Tecniche Nuove stated – We have worked hard these last few months to guarantee an edition that would mark the market's relaunch and in line with all health protocols required by the Government and Region, however this wasn't enough to have the certainties we needed to continue. All too aware of the repercussions which postponing the event will have on over 1,300 exhibitors, who had reconfirmed their attendance, and on everyone else involved, we would like to thank the companies for their support, the relationship grounded in respect and trust we have had the pleasure of forging with them in all these years of working together. Trade fair events are moments for discussion and opportunities for growth; they are worthy of attention, if we really want to relaunch Italian industry."
For 19 years, MECSPE has been the benchmark event for the manufacturing industry when it comes to innovation. Here, every visitor can discover the latest and most innovative materials, products and technologies for each sector. The event scheduled to take place at BolognaFiere from 23rd to 25th November 2021 remains firmly committed to supporting Italy's SMEs and industry, confident that talent, commitment and creativity will remain distinctive and competitive features of Italian production throughout the world.
The programme of special initiatives , exhibition hall layout and organisation   will remain unchanged.
For information, www.mecspe.com
MECSPE PARMA 2019 in numbers
135,000 sqm of exhibition space, attended by 56,498 professionals and 2,306 companies, 2,000 sqm of Tunnel of Innovation in collaboration with the Smart Factory Cluster, 67 special initiatives and conferences.
MECSPE Exhibition Halls
Machinery and tools – Machine tools, Equipment, Tools, Design Software  Machinery, materials and processing of metal sheet – Bending, Moulding, Cutting, Assembly, Welding, Materials and Software; Digital Factory – Industrial computing, IoT, Industrial sensors, Cloud-manufacturing, Automatic identification technologies, Applications, devices, instrumentation, and smart components for interpreting and interconnecting processes; Logistics – Wrapping, Packaging, Handling, Material handling, Lean manufacturing, Warehouse management software, Supply chain management, Safety systems, PPE, Outsourcing; Mechanical Subcontracting – Precision mechanical processing, Metal carpentry, Mechanical construction, Fasteners, Foundries, Small parts, Wire working, Outsourced industrial processes, Micro-processing; Electronic Subcontracting – CEM (Contract Electronics Manufacturer), Wiring, EMS (Electronics Manufacturing Service), PCB (Printed Circuit Board Manufacturers), Engineering and design firms; Moulds, Machines and plastic, rubber and composite subcontracting – Plastics, rubber, and composite processing, Machines and plants, Auxiliary equipment, innovative materials, Moulding, Extrusion, Packaging, Blow Moulding, Moulds, Models, Normalised parts for moulds, Design, Simulation and design software, Micro-processing; Additive Manufacturing – 3D printing, Rapid prototyping, Rapid manufacturing, Systems and services for reverse engineering, Additive technology, Materials, Services, Hardware: 3D printers and scanners, accessories, Simulation and design software; Treatments and Finishes – Surface treatment systems, Furnaces, Galvanic finishes, Chemical and electronic processes, Washing, Metallising, Glazing, Galvanising, Products and accessories for treatments, Thermal treatments, Painting; Non-ferrous materials and alloys – Processing of non-ferrous materials (Aluminium, Titanium, Magnesium, Light Alloys), Die-casting, Foundries, Outsourced industrial processes, Technologies, Design, Engineering; Motek Italy – Automation and robotics, Assembly, Mounting and handling; Control Italy – Quality certification and control, Metrology, Measurement instruments, Laboratory tests, Calibration, Analysis equipment, Vision systems; Power Drive – Mechanical power transmission systems, Hydraulics, Pneumatics, Mechatronics, Motion control, Maintenance, Compressed air.
For information, www.mecspe.com
For further information
Press Office
MY PR – www.mypr.it
Paola Gianderico – Carmelo Abate
mobile_ 331-7623732 tel_ 340-1409543