MECSPE IS BACK ON THE SCENE AT BOLOGNAFIERE – 13 halls, to finally live an immersive experience in total safety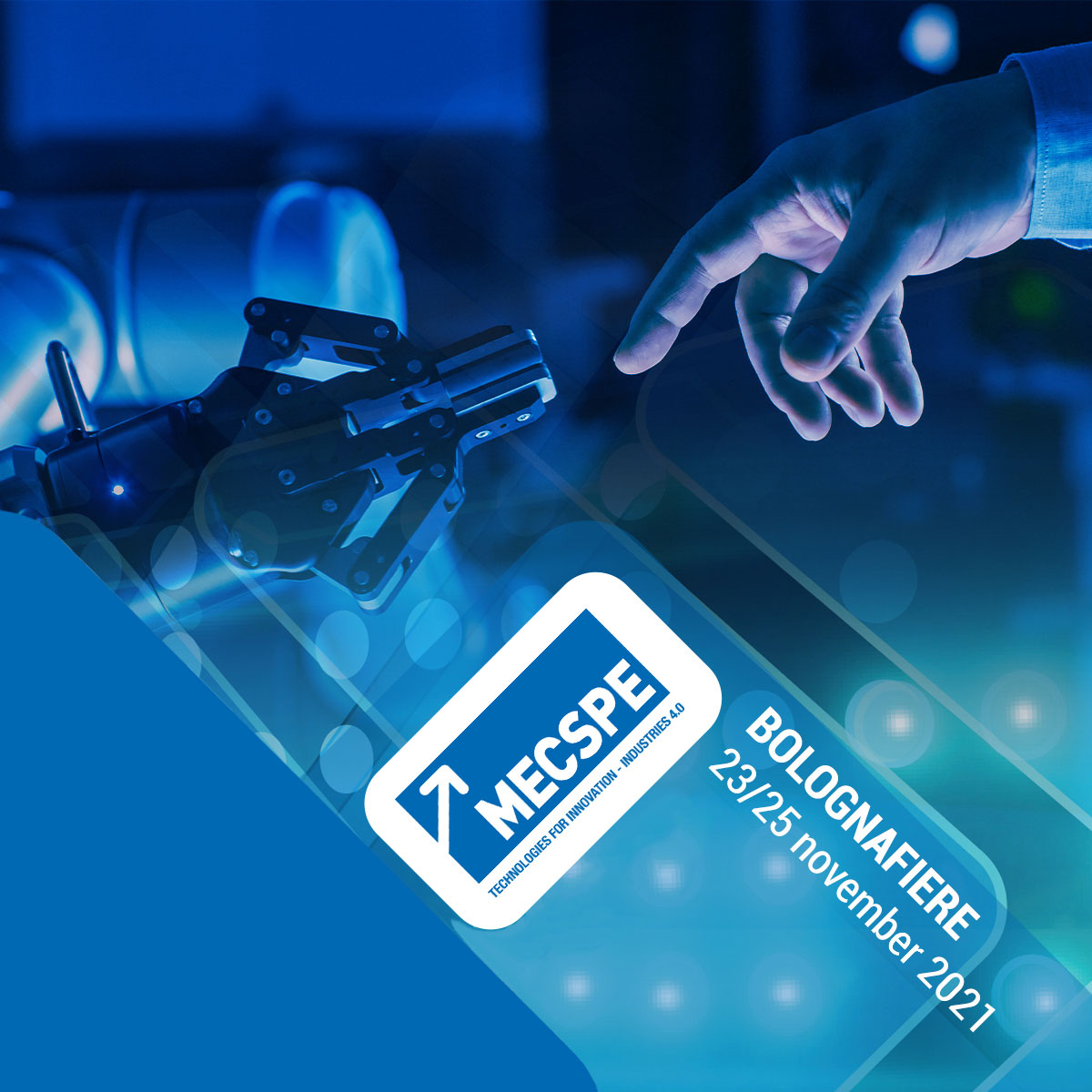 ---
MECSPE IS BACK ON THE SCENE AT BOLOGNAFIERE, FROM 23RD TO 25TH NOVEMBER 2021
The next edition of MECSPE, rescheduled for autumn, will take place for the first time at Bologna's new exhibition centre, with an enhanced offering for Italian SMEs in the manufacturing industry and even stronger connections: 13 halls, for what will at last be a live immersive experience, in total safety
---
Milan, April 2021 – MECSPE, Italy's most important event dedicated to innovative technologies for manufacturing companies, after announcing its rescheduling for the autumn, will be back on the scene at BolognaFiere, from 23rd to 25th November 2021. The nineteenth edition is promoted by Senaf with the keywords "digitalisation, training and sustainability", overarching themes of the best solutions on show, which companies and visitors will be able to discover live at the exhibition event, with its complete offering of materials, innovative products and technologies for each sector.
13 synergistic halls, divided into themed areas dedicated to machine tools, Treatments and Finishes in the Mechanical Area, electronic and mechanical subcontracting, non-ferrous materials and alloys in the Subcontracting Area. Visitors can also take a peek into the future with the Industry 4.0 Area, with the following halls: Control and Quality, Automation and Robotics, Power Drive, Logistics, Digital Factory and Additive Manufacturing, and lastly, Eurostampi (Moulding), Machinery and Subcontracting for plastic, rubber and composites in the eponymous area, and the new hall dedicated to Metal sheet machinery, materials and processing. All this at the BolognaFiere Exhibition Centre.
The 2021 event will host a new exhibition area: Gamification: the Limitless Factory", which has always anticipated trends, entirely structured around interactive and experiential demos, showing visitors the new concept of the increasingly human-scale factory. A revolutionary format, whose name conveys its ability to generate attractiveness and competitiveness which transcends physical space, through the adoption of innovative solutions and applicative 4.0 digital tools.
Over in Piazza Competence Centre, for the first time ever MECSPE will give visibility to those Clusters of innovation introduced by the 4.0 Industry Plan and the Ministry of Economic Development, to accompany and support businesses towards the fourth industrial revolution. The primary goal of this area, with focus on 5G, Additive Manufacturing, Big Data, Cyber Security, Digitalisation, Artificial Intelligence and Robotics, will be the matching of visitors at the event with eight Competence Centres that will show orientation, training and innovative 4.0 projects.
Moreover, in order to further strengthen young businesses and provide them with growth opportunities through dialogue with small, medium-sized and large enterprises, the Startup Factory area, organised in partnership with Gellify, will give many start-ups involved the chance to present and promote their competitiveness to a vast and highly specialised audience.
Sustainability will also be a focal point, with the Piazza e Percorso Ecofriendly initiative – "Io faccio di più", an itinerary among exhibitors who adopt green and ecofriendly policies as part of their company strategies and production processes. Moreover, in the Materioteca® Design Area, the project "Blue is the new green" will focus on bio-based and synthetic circular economy and on all technologies and systems that facilitate its operability, with interesting results both in terms of material samples and finished products.
Different actors involved in product and innovation development processes with an interest in Simulation and Computer Aided Engineering technologies will have the chance to participate in the Simulation Summit, the independent Italian conference on CAE simulation in the industrial sector, which aims to promote the aware and effective use of Simulation.
But even more innovation awaits. TMP, The Italian Association of Plastic Material Technicians, will also take part in the three-day event in Bologna with Piazza TMP, where member companies active in the polymerisation, mould construction and moulding, compounding and plastic distribution segments, will share and elaborate on the sector's recovery path, with the perspective of the production and sustainable use of plastic materials.
The Solution Award – The Robotics Innovation Prize will celebrate intuition and innovative attitudes towards work. For the sixth year in a row, the magazine Automazione Integrata, in collaboration with Gellify, will organise an award dedicated to companies, start-ups, universities, research centres, spin-offs (single or in a consortium), technology providers, system integrators and/or end-users with an innovative application. Awards will be given for the following five categories: Technology-Driven Innovation, Business Model Innovation, Alliance Model Innovation, Horizons and Agrifood.
The presence of the Italian Association of Machinery has been confirmed for this edition too, along with the eponymous Villaggio Ascomut, bringing together the stands of different members, highlighting their sense of belonging.
For 19 years, MECSPE has been the benchmark event for the manufacturing industry when it comes to innovation. The event, scheduled to take place at BolognaFiere, from 23rd to 25th November 2021, will remain true to its commitment, supporting SMEs, start-ups and Italy's industry, cooperating with associations, vocational high schools and Universities to support Italian production throughout the world. This new location will further improve foreign and domestic development, enabling us to benefit from connections and infrastructures that make Bologna more accessible to visitors attending the exhibition event.
MECSPE PARMA 2019 in numbers
135,000 square metres of exhibition space, 56,498 professionals, 2,306 companies, 2,000 square metres of Tunnel of Innovation in collaboration with the Cluster Fabbrica Intelligente, and 67 special initiatives and conferences.
MECSPE Exhibitions
Machinery and tools – Machine tools, Equipment, Tools, Design Software Metal Sheet – Machinery, materials and processing – Bending, Moulding, Cutting, Assembly, Welding, Materials and Software; Digital Factory – Industrial computing, IoT, Industrial sensors, Cloud-manufacturing, Automatic identification technologies, Applications, devices, instrumentation, and smart components for interpreting and interconnecting processes; Logistics – Wrapping, Packaging, Handling, Material handling, Lean manufacturing, Warehouse management software, Supply chain management, Safety systems, PPE, Outsourcing; Mechanical Subcontracting – Precision mechanical processing, Metal carpentry, Mechanical construction, Fasteners, Foundries, Small parts, Wire working, Outsourced industrial processes, Micro-processing; Electronic Subcontracting – CEM (Contract Electronics Manufacturer), Wiring, EMS (Electronics Manufacturing Service), PCB (Printed Circuit Board Manufacturers), Engineering and design firms; Moulds, Machines and plastic, rubber and composite subcontracting – Plastics, rubber, and composite processing, Machines and plants, Auxiliary equipment, innovative materials, Moulding, Extrusion, Packaging, Blow Moulding, Moulds, Models, Normalised parts for moulds, Design, Simulation and design software, Micro-processing; Additive Manufacturing – 3D printing, Rapid prototyping, Rapid manufacturing, Systems and services for reverse engineering, Additive technology, Materials, Services, Hardware: 3D printers and scanners, accessories, Simulation and design software; Treatments and Finishes – Surface treatment systems, Furnaces, Galvanic finishes, Chemical and electronic processes, Washing, Metallising, Glazing, Galvanising, Products and accessories for treatments, Thermal treatments, Painting; Non-ferrous materials and alloys – Processing of non-ferrous materials (Aluminium, Titanium, Magnesium, Light Alloys), Die-casting, Foundries, Outsourced industrial processes, Technologies, Design, Engineering; Motek Italy – Automation and robotics, Assembly, Mounting and handling; Control Italy – Quality certification and control, Metrology, Measurement instruments, Laboratory tests, Calibration, Analysis equipment, Vision systems; Power Drive – Mechanical power transmission systems, Hydraulics, Pneumatics, Mechatronics, Motion control, Maintenance, Compressed air.
For information, www.mecspe.com
For further information
Press Office
MY PR – www.mypr.it
Paola Gianderico – Carmelo Abate
mobile_ 331-7623732 tel_ 340-1409543