MECSPE 2024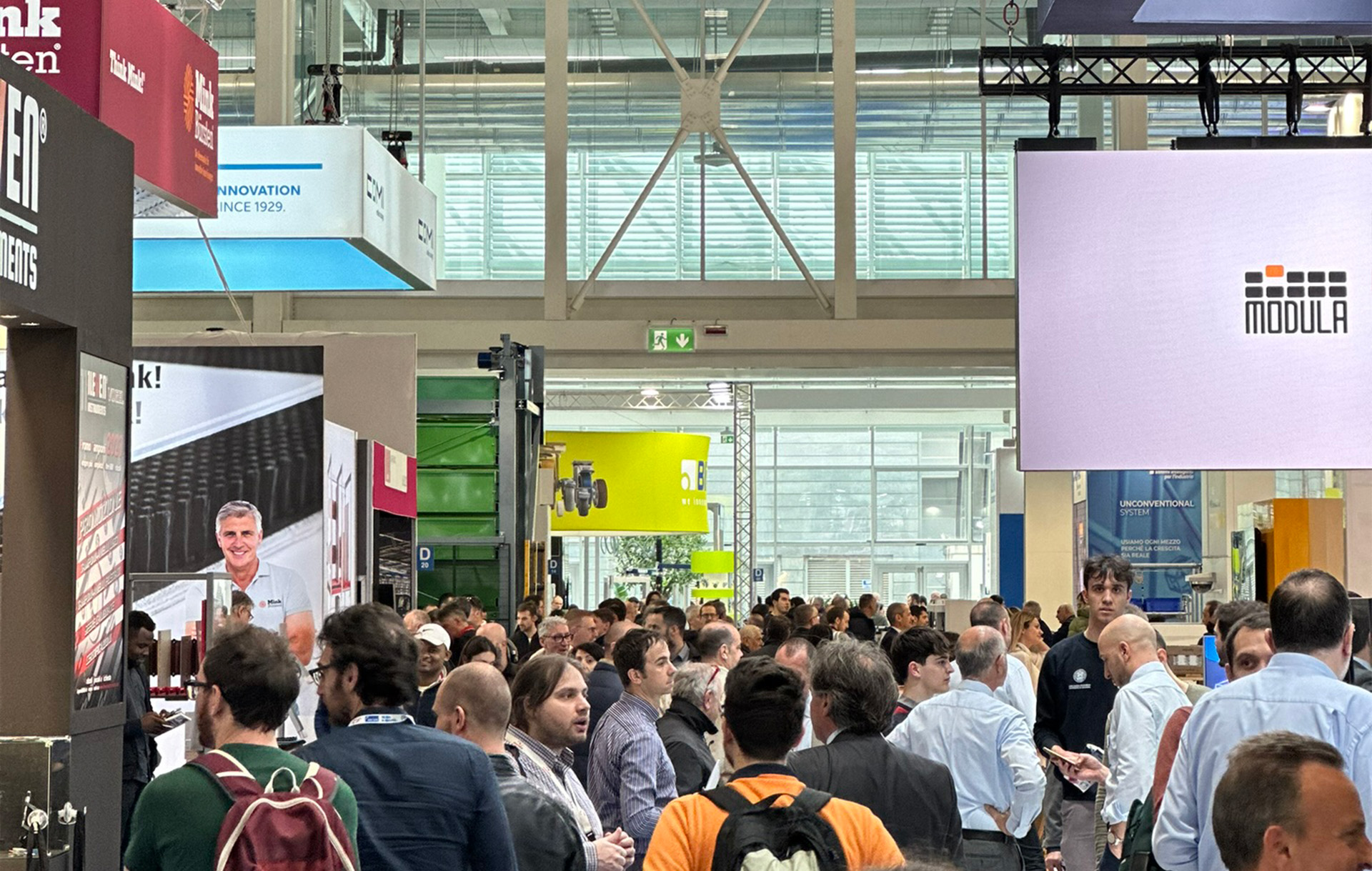 After a record-breaking 2023, MECSPE prepares for its 22nd Bologna edition from March 6-8, 2024, with the new Heart Exhibition "Energy Transition & Sustainability in the Manufacturing Industry" and an increasingly international approach

---
The leading trade fair dedicated to the manufacturing industry returns to Bologna for its 22nd edition for a three-day full immersion in innovation, sustainability, and education.
Milan, Oct. 16, 2023 – After the Bari event in November 2023, the manufacturing industry will once again take center stage with MECSPE from March 6-8, 2024 at the BolognaFiere pavilions. A return after the success of the last Bologna edition that saw the participation of more than two thousand exhibiting companies and nearly 60 thousand visitors (+52 percent over 2022). Added to this is an unprecedented level of satisfaction, with more than three-quarters of visitors satisfied with the networking opportunities and the chance to catch up on the latest technologies in manufacturing.
Over the years, this event has become increasingly international, given Italy's role on the European and world scene and thanks to the presence at the fair of buyers from all countries of the world. According to ISTAT (Italy's National Institute for Statistics), our country, along with Germany, has a production system with a strong manufacturing vocation, and more than one-third of the added value produced by companies operating in industry and services comes from this sector. Export plays a major role: except for micro-enterprises, more than 50 percent of small businesses are active in foreign markets, a figure that exceeds 90 percent for medium to large enterprises. Germany, the United States, France, and Spain, are confirmed as among our country's main trading partners.
This is the backdrop for the 22nd edition of MECSPE, an event that will have an even more global outlook to guide Italian companies on their national and international growth path. A three-day expo where entrepreneurs will have a direct and "immersive" experience with the world of manufacturing, thanks to an exhibition and demonstration route to address the pillars of modern industry: innovation, training, and sustainability. A journey that will propel visitors and exhibitors toward an increasingly 5.0 and human-centered industry.
The 2024 edition will have the new Heart Exhibition "Energy Transition & Sustainability in the Manufacturing Industry" as its central focus, dedicated to issues that entrepreneurs are particularly sensitive to, especially at this historic moment. An area where issues affecting mobility, the manufacturing industry, and the hydrogen supply chain will be explored in depth, with demonstration stations, panel discussions, keynote speeches, and moments of discussion. Through best practices and successful case histories, technology and market experts will illustrate the challenges facing the industry in the run-up to 2035 (stop of thermal engine registrations), the impact that sustainable mobility has and will increasingly have on the supply chain, and the measures that can be taken.
In addition, many celebrated events that have made MECSPE a benchmark for the industry will return, such as the TMP Square, the Planning and Design Square, and the Startup Factory, initiatives where different players in the industry can get involved to present their projects or attend learning moments.
 Throughout this journey, innovation and training will be the soul of many initiatives, confirming MECSPE's role as a guide also for the new generations and for a new way of doing business, more suitable for young people and above all environment-friendly. It is precisely the theme of sustainability that will be emphasized during the three days thanks to the Sustainability Goal Path (evolution of the EcoFriendly Path), an initiative designed to give visibility and reward exhibitors who have already embarked on a path of sustainability, in its three declinations—environmental, social and governance.
A direction, the sustainable one, in line with the values of Senaf, the company that organizes MECSPE and has been promoting specialized trade fairs, thematic trade shows, and congresses for more than 30 years. In 2023, Senaf obtained the ISO 20121 certification to create and provide a sustainability management system for live events, evaluating and monitoring all the processes that are required for the holding of an event in compliance with social and economic sustainability parameters.
In addition, the collaboration with the main industry associations that have supported MECSPE in recent years continues, including Ascomut, Aidam, Confimi, Comet, Confapi, and Confartigianato, with their respective "Villages", and CNA Produzione, helping organizers develop an innovative and sustainable business culture.
Facts and figures of MECSPE 2023
59.845 visitatori professionali (+52% sul 2022), 92.000 mq di superficie espositiva, 2.034 aziende presenti, 2.000 mq del Cuore Mostra "Transizione energetica e mobilità del futuro", 20 iniziative speciali.
MECSPE Exhibitions
Machines and Tools – Machine tools, Equipment, Tools and Design Software; Machines, Materials and Sheet Metal Working – Bending, Stamping, Cutting, Assembly, Welding, Materials and Software; Digital Factory – Industrial Informatics, IoT, Industrial Sensing, Cloud-manufacturing, Automatic Identification Technologies, Applications, Devices, Instrumentation and Intelligent Components for Process Interpretation and Interconnection; Logistics – Packaging, Handling, Material handling, Lean manufacturing, Warehouse management software, Supply chain management, Safety systems, PPE, Outsourcing; Mechanical Subcontracting – Precision mechanical processing, Metal carpentry, Mechanical construction, Fasteners, Foundries, Small parts, Wire processing, Contract industrial processing, Micromachining; Electronic subcontracting – Cem (contract electronics manufacturer), Wiring harnesses, Ems (electronics manufacturing service), PCB (printed circuit board manufacturers), Engineering and design offices; Eurostampi – Plastics, rubber and composites – Plastics, rubber and composites processing, Machines and plants, Auxiliary equipment, Innovative materials, Moulding, Extrusion, Packaging, Blowing, Moulds, Models, Standardized components for molds, Design, Simulation and design software, Micromachining; Additive Manufacturing – 3D printing, Rapid prototyping, Rapid Manufacturing, Systems and services for reverse engineering, Additive technology, Materials, Services, Hardware: 3D printers and scanners, accessories, Simulation and design software; Treatments and Finishes – Surface Treatment Plants, Furnaces, Electroplating, Chemical and Electronic Processes, Washing, Metallization, Enamelling, Galvanizing, Products and accessories for treatments, Heat Treatments, Painting; Non-Ferrous Materials and Alloys – Processing of non-ferrous materials (Aluminium, Titanium, Magnesium, Light Alloys), Die Castings, Foundries, Contract Industrial Processing, Technologies, Design, Engineering; Automation and Robotics – Automation and Robotics, Assembly, Mounting and Handling; Control and Quality – Certification and quality control, Metrology, Measuring instruments, Laboratory testing, Calibration, Analytical equipment, Vision; Power Drive – Mechanical power transmission devices, Hydraulics, Pneumatics, Mechatronics, Motion control, Maintenance, Compressed air.
For further information visit www.mecspe.com.
For further information
Press Office
MY PR – www.mypr.it
Roberto Grattagliano – cell 338 9291793 e-mail roberto.grattagliano@mypr.it
Arianna Bonfioli – cell 335 6111390 e-mail arianna.bonfioli@mypr.it
Stefania Bonetti – cell 340 2513708 e-mail stefania.bonetti@mypr.it