MECSPE 2022 – From June 9 to 11, 2022, Italy's leading trade fair dedicated to manufacturing and Industry 4.0 returns to Bologna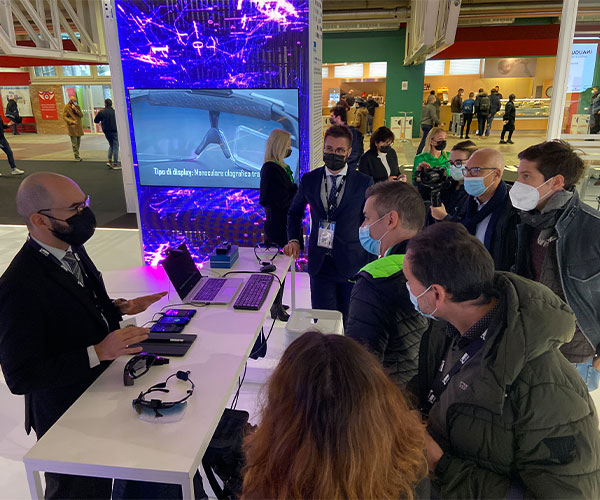 MECSPE 2022
From June 9 to 11, 2022, Italy's leading trade fair dedicated to manufacturing and Industry 4.0 returns to Bologna
Predictive diagnostics, lightening and energy efficiency are the three focuses of the top event Fabbrica Senza Limiti (Factory Without Limits), which will be added to the wider themes of MECSPE such as digitalization, sustainability and training
Milan, January 04, 2022 – Italy continues to grow, so much so that in last months it has been defined as the engine of European industry. The year 2021, in fact, closes with GDP at +6.3% and the most recent ISTAT data see for Italian industry an economic increase of +2.8%, with a consequent increase in turnover of +16.9%. It is a good moment for the country's manufacturing sector, as confirmed also by the data of the last  MECSPE Observatory, where  seven entrepreneurs out of ten state to be satisfied. It's in this optimistic mood that the 20ᵃ edition of MECSPE, the most important exhibition in Italy dedicated to manufacturing and organized by Senaf, will take place from 9th to 11th June in BolognaFiere. An event that builds on the positive numbers of the last edition, which drew 48.562  visitors and the participation of 2.024 companies in the fair (highest number of exhibitors of industrial fairs in Europe in 2021).
Also confirmed for the new edition is the "Factory Without Limits" (Fabbrica senza limiti), an innovative area that will focus on three key issues: predictive diagnostics, lightweighting and energy efficiency. Being able to prevent the causes that can cause interruptions in production or delays in deliveries, with consequent economic losses, is increasingly important. Business interruption, in fact, is one of the main concerns mentioned by entrepreneurs (indicated by 45%), as revealed by the Risk Barometer report by Allianz Global Corporate & Specialty. In addition, it becomes crucial in the production process to use lighter and lighter materials in order to make the process as sustainable as possible and optimize energy efficiency, thus achieving significant savings in consumption. A sort of virtuous circle that will see "machines" and software as protagonists.
But in 2022 there will be no lack of in-depth analysis on the topics of broader scope for the Italian manufacturing industry and that have made MECSPE a unique event for entrepreneurs: digitalization, sustainability and training are and will be the key points to promote growth in view of Industry 4.0 and to attract young people to the "new factory", more and more evolved and "digital". In short, in line with the needs of the younger generation.
Also with a view to training and innovation, a large space will be dedicated to the Competence Centers, introduced by MISE in 2018 as part of the National Plan Industry 4.0 in order to assist companies on aspects such as training, digitalization and development of innovation 4.0. In this context, MECSPE offers the opportunity to know closely the realities that are involved in supporting companies in the digital transition and in the development of innovative and highly competitive technologies on the national and international market. All this through orientation activities, training and innovative projects in Industry 4.0. Despite the potential of these tools, there is much to be done: the MECSPE Observatory shows indeed that only 4% of companies have collaborated with Competence Centers or Digital Innovation Hubs and 21% do not know them at all, although more than a third of respondents recognize the Competence Centers' ability to be a good support for companies in building and testing Industry 4.0 projects.
The 2022 edition will have more and more contents, and will be supported by METEF, the international expo for aluminum, metal foundry and innovative material technologies. It will alternate between exhibitions and demonstrations, as in the Thematic Squares (Planning and Design, TMP, Start-up Factory) or in the countless training and information moments (Simulation Summit or the Solution Award) to be close to the needs of companies and entrepreneurs.
For more information visit www.mecspe.com.
Facts and figures of the last edition of MECSPE
48.562 trade visitors, 92.000 square metres of exhibition space, 2.024 companies present, 2.000 square metres of the Cuore Mostra Fabbrica Senza Limiti, 46 special initiatives and conferences.
MECSPE Exhibitions
Machines and Tools – Machine tools, Equipment, Tools and Design Software; Machines, Materials and Sheet Metal  Working – Bending, Stamping, Cutting, Assembly, Welding, Materials and Software; Digital Factory – Industrial Informatics, IoT, Industrial Sensing, Cloud-manufacturing, Automatic Identification Technologies, Applications, Devices, Instrumentation and Intelligent Components for Process Interpretation and Interconnection; Logistics – Packaging, Packing, Handling, Material handling, Lean manufacturing, Warehouse management software, Supply chain management, Safety systems, PPE, Outsourcing; Mechanical Subcontracting – Precision mechanical processing, Metal carpentry, Mechanical construction, Fasteners, Foundries, Small parts, Wire processing, Contract industrial processing, Micromachining; Electronic subcontracting – Cem (contract electronics manufacturer), Wiring harnesses, Ems (electronics manufacturing service), PCB (printed circuit board manufacturers), Engineering and design offices; Eurostampi, Machines and plastic, rubber and composites subcontracting – Plastics, rubber and composites processing, Machines and plants, Auxiliary equipment, Innovative materials, Moulding, Extrusion, Packaging, Blowing, Moulds, Models, Standardised components for moulds, Design, Simulation and design software, Micromachining; Additive Manufacturing – 3D printing, Rapid prototyping, Rapid Manufacturing, Systems and services for reverse engineering, Additive technology, Materials, Services, Hardware: 3D printers and scanners, accessories, Simulation and design software; Treatments and Finishes – Surface Treatment Plants, Furnaces, Electroplating, Chemical and Electronic Processes, Washing, Metallization, Enameling, Galvanizing, Products and accessories for treatments, Heat Treatments, Painting; Non-Ferrous Materials and Alloys – Processing of non-ferrous materials (Aluminum, Titanium, Magnesium, Light Alloys), Die Castings, Foundries, Contract Industrial Processing, Technologies, Design, Engineering; Automation and Robotics – Automation and Robotics, Assembly, Assembly and Handling; Control and Quality – Certification and quality control, Metrology, Measuring instruments, Laboratory testing, Calibration, Analytical equipment, Vision; Power Drive – Mechanical power transmission devices, Hydraulics, Pneumatics, Mechatronics, Motion control, Maintenance, Compressed air.
For further information
Press Office
MY PR – www.mypr.it
Roberto Grattagliano – cell 338 9291793 e-mail roberto.grattagliano@mypr.it
Caterina Conserva – cell 3401409543 e-mail caterina.conserva@mypr.it
Giulia Pellecchia – cell 3738216219 e-mail giulia.pellecchia@mypr.it