MECSPE 2021: 48.562 VISITORS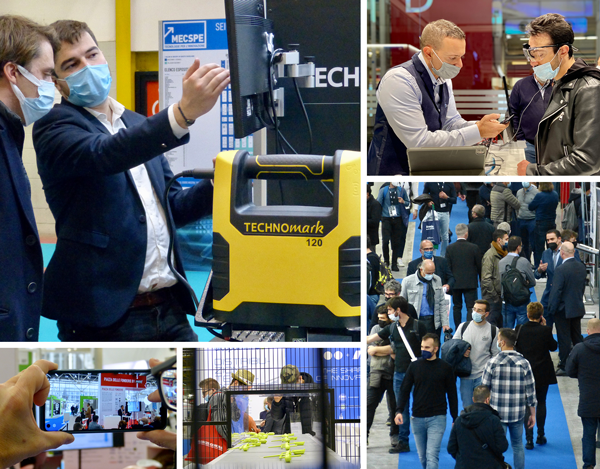 MECSPE 2021: 48.562 VISITORS
The manufacturing supply chain met in Bologna for the 19ᵃ edition of MECSPE that showed great participation of visitors and exhibitors
Industrial innovation and great attention to the 4.0 competencies, the 2021 edition of MECSPE closes with key facts and a great drive for the manufacturing sector.
MECSPE will come back to BolognaFiere from the 9th to the 11th of June 2022
Milan, 26th of November 2021 – Yesterday ended the 19th edition of MECSPE, the exhibition dedicated to manufacturing and Industry 4.0, organized by Senaf, which confirms itself as a national and international reference point for industrial innovation. For the first time in BolognaFiere, from the 23rd to the 25th of November 2021, MECSPE records once again important numbers: 48.562 professionals visited the 13 thematic halls and the stands of the 2,024 exhibiting companies (a figure that brings MECSPE on the European podium for the number of exhibitors in 2021), distributed on 92,000 square meters of exhibition surface, confirming the whole industrial sector' desire to meet again in presence.
MECSPE returns to be the most important meeting and comparison platform for professionals, generating important synergies between visitors and exhibitors. Thanks to the numerous initiatives present, the three main topics of the event were represented: digitalization, sustainability, and training. MECSPE 2021 gave a boost to the growth, being a showcase of technologies and competencies in an anti-waste and environmental sustainability-oriented perspective. One of the most interesting attractions was the heart of the exhibition, Gamification: the factory without limits, a path full of demonstrative, interactive, and experiential activities that led visitors and exhibitors to experience the new concept of a factory, open and without limits. For the first time ever, six Competence Centers from all over Italy gathered in the Piazza Competence Center (Competence Center Square). The Piazza has become a reference point for all those realities that, as it is also shown by the last MECSPE Observatory on the II quad. 2021, are not yet aware of the technological, financing, and training opportunities made available to them by the Industry 4.0 plan. For the first year at MECSPE, there was also the debut of the Piazza delle Fonderie (Foundry Square), promoted by METEF (with MECSPE from 2022) and supported by the associations AIM, Assofond and FACE to turn the spotlight on the light alloy casting foundry and the recycling of aluminum, a young metal but increased driving for industry, research, and innovation.
In this edition of MECSPE 2021 also many category associations are present, such as AIDAM (Italian Association of Automation and Mechatronics), Confindustria Cuneo, Confimi Industria, CNA Produzione, besides the numerous groups of Apitorino, Apindustria Brescia, Confartigianato and Ascomut, with the Ascomut Village, at MECSPE since more than 15 editions.
"We close our first Bologna edition with great satisfaction for the results achieved, which, beyond the individual numbers, shows the attention paid to the needs of the manufacturing sector, currently at a turning point. – comments Emilio Bianchi, General Manager of Senaf – We have crucial months for change ahead and, in particular, for the digital and ecological transformation of our companies' industrial processes; it is then increasingly essential to provide the right support for the skills that will implement this transformation. We understand that more skills mean more turnover. From here we make the moves for the next MECSPE edition that is going to be held in Bologna in June 2022.".
It is in this direction that the 20th edition of MECSPE, in program from the 9th to the 11th of June at BolognaFiere, will develop. This edition will focus on the themes of technological innovation and business culture as the key to the manufacturing sector growth, in view of Industry 4.0, with new proposals and special initiatives on new technologies that will be the protagonists of the thematic exhibitions. AUTOMOTIVE, BUT NOT ONLY. As confirmed by MECSPE Observatory on the II quad. 2021, manufacturing companies look more and more to foreign countries, and, in particular, to Europe: the internationalization becomes, therefore, a topic of in-depth analysis for the future, in the perspective of increasing attention, by MECSPE, to the evolution of the supply chain.
"MECSPE continues to look at the future of the sector, starting from the new challenges that are waiting for us, but, above all, taking its cue from the most relevant trends for the market. – comments Maruska Sabato, Project Manager of MECSPE – This year we have wanted chosen to remove the factory borders since the factory has become without limits and accessible to everybody, especially to the new generations, that, in all the editions, we try to involve so that they can innovatively approach the industrial world. It was an especially important edition to do business and to get to know new and interesting realities, such as the start-ups which are part of Startup Factory as well as the opportunities offered by the Competence Centers, whose role becomes considerable given the new funds allocated to them by the PNRR. There will be many proposals for 2022, starting as usual from the focus on new technologies and the growth of human capital skills, fundamental aspects to continue to be competitive at a national and international level.".
The numbers of MECSPE 2021
48.562 trade visitors, 92,000 square meters of exhibition space, 2, 024 companies present, 2,000 square meters of the Cuore Mostra Fabbrica Senza Limiti, 46 special initiatives and conferences. MECSPE comes back from the 9th to the 11th of June 2022 with its 20th edition in BolognaFiere.
MECSPE Exhibitions
Machines and Tools – Machine tools, Equipment, Tools and Design Software; Machines, Materials and Sheet Metal Working – Bending, Stamping, Cutting, Assembly, Welding, Materials and Software; Digital Factory – Industrial Informatics, IoT, Industrial Sensing, Cloud-manufacturing, Automatic Identification Technologies, Applications, Devices, Instrumentation and Intelligent Components for Process Interpretation and Interconnection; Logistics – Packaging, Packing, Handling, Material handling, Lean manufacturing, Warehouse management software, Supply chain management, Safety systems, PPE, Outsourcing; Mechanical Subcontracting – Precision mechanical processing, Metal carpentry, Mechanical construction, Fasteners, Foundries, Small parts, Wire processing, Contract industrial processing, Micromachining; Electronic subcontracting – Cem (contract electronics manufacturer), Wiring harnesses, Ems (electronics manufacturing service), PCB (printed circuit board manufacturers), Engineering and design offices; Eurostampi, Machines and plastic, rubber and composites subcontracting – Plastics, rubber and composites processing, Machines and plants, Auxiliary equipment, Innovative materials, Molding, Extrusion, Packaging, Blowing, Molds, Models, Standardized components for molds, Design, Simulation and design software, Micromachining; Additive Manufacturing – 3D printing, Rapid prototyping, Rapid Manufacturing, Systems and services for reverse engineering, Additive technology, Materials, Services, Hardware: 3D printers and scanners, accessories, Simulation and design software; Treatments and Finishes – Surface Treatment Plants, Furnaces, Electroplating, Chemical and Electronic Processes, Washing, Metallization, Enameling, Galvanizing, Products and accessories for treatments, Heat Treatments, Painting; Non-Ferrous Materials and Alloys – Processing of non-ferrous materials (Aluminum, Titanium, Magnesium, Light Alloys), Die Castings, Foundries, Contract Industrial Processing, Technologies, Design, Engineering; Automation and Robotics – Automation and Robotics, Assembly, Assembly and Handling; Control and Quality – Certification and quality control, Metrology, Measuring instruments, Laboratory testing, Calibration, Analytical equipment, Vision; Power Drive – Mechanical power transmission devices, Hydraulics, Pneumatics, Mechatronics, Motion control, Maintenance, Compressed air.
For information, www.mecspe.com
For further information
Press Office
MY PR – www.mypr.it
Caterina Conserva – cell 3401409543 e-mail caterina.conserva@mypr.it
Giulia Pellecchia – cell 3738216219 e-mail giulia.pellecchia@mypr.it