Technologies grow thanks to ideas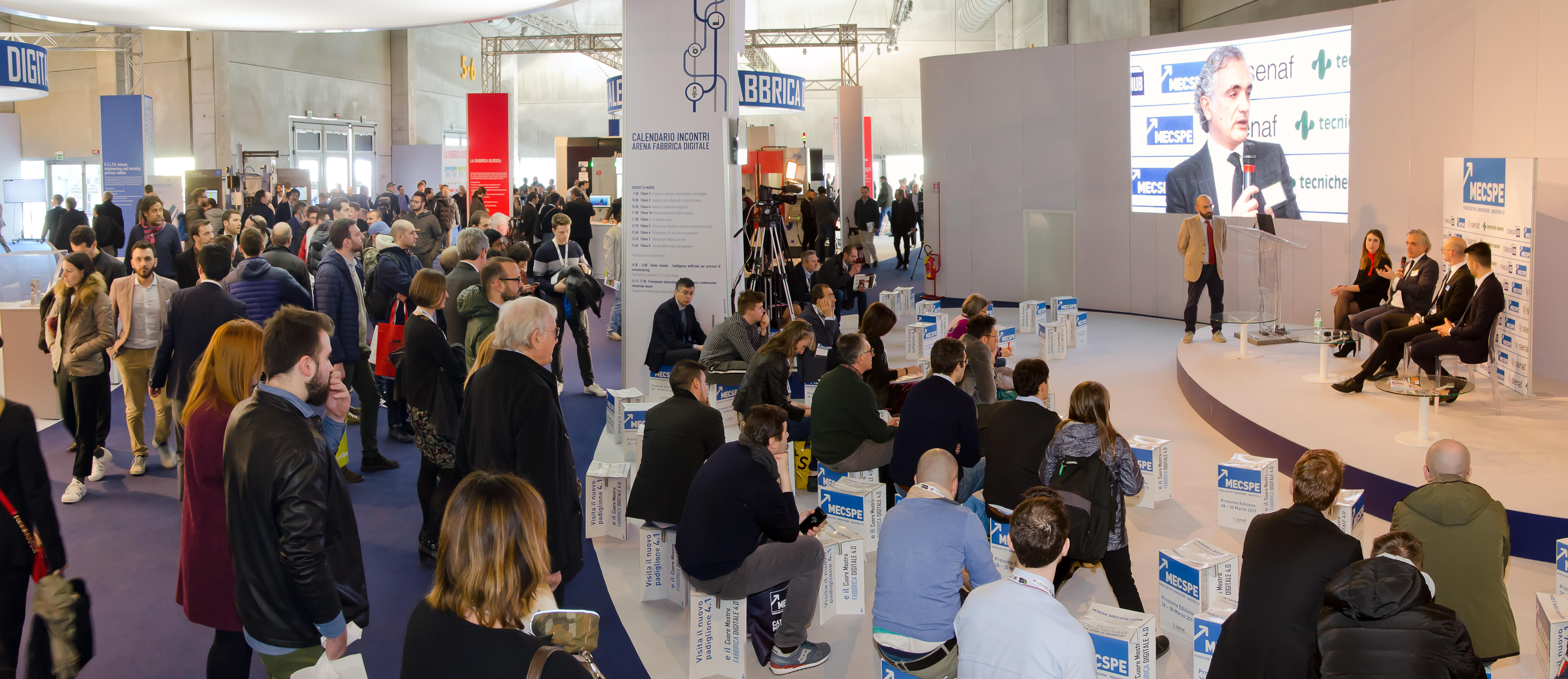 MECSPE supports 4.0 manufacturing by celebrating projects with the highest innovative content
The highest impact solutions for industrial fabric growth awarded during the trade fair event
Extraordinary numbers for the latest edition of MECSPE at Fiere di Parma, with a staggering 17% increase in visitors compared to 2017, confirming an interest in line with technological industrial growth in Italy. According to the latest study by The European House – Ambrosetti, on behalf of ADP Italia, the country now boasts an average of 160 industrial robots per 10,000 employees (1 per 62.5 workers) in the manufacturing industry, compared to 150 in Spain and 127 in France.
In view of this, ever mindful of Senaf's commitment to supporting the manufacturing sector, the reference event for 4.0 industry has organised contests for the promotion of innovative ideas by companies who are riding the wave of the current digitalisation process, as well as by young start-ups taking their first steps on the market. For the third year running, the ROBOTIC INNOVATION PRIZE, organised by Automazione Integrata, focused the trade fair spotlight on applications which distinguish themselves in virtue of exceptional levels of innovation in the field of robotics. The Scientific Committee judged entries according to criteria of excellence (potential and technical effectiveness) as well as potential impact on industrial fabric. First place in the Main Category went to an application developed for Dallara Automobili Spa by Roboticom – Fabrica Machinale Srl, SandRob. The first ever single robotic 7 axle surface finishing system for complex surfaces, capable of automatically carrying out operations. For the first time ever, the system brings automation to highly delicate processing phases, traditionally carried out manually, overcoming problems and limits, thus revolutionising entire production processes.
Raffaele D'Achille, from Roboticom Fabrica Machinale explains: " We are honoured to have received this recognition. The main difficulty of our solution was the integration of different technologies (waterjet, mandrel, sander and mechanical feeler), but we did it, and this multifunctionality is the project's greatest strong point. SandRob is a veritable process revolution, it transcends manpower limits during critical and delicate phases, while guaranteeing constant quality results and increased productivity. In this way our clients can expand production, both in terms of quantity and range."
 Man as the centre of digital factories was also another key theme in this edition of MECSPE, within the 4.0 industry paradigm, in which machines become collaborative and share work spaces with workers. The concept of man-robot cooperation lies at the heart of MACHAMP: Manipulator Assistive Control for Human Amplification in Mounting Procedures, by ITIA CNR, which stood out in particular among candidates for the Horizons Category, the youngest section of the ROBOTICS INNOVATION PRIZE, for the selection and rewarding of prototypes. This project, conceived for the aerospace industry, improves operator work conditions by providing relief from excessive loads, guaranteeing intuitive interaction with the robotic system during the execution of burdensome industrial applications (such as the installation of heavy parts).
A keynote of the rapidly evolving fourth industrial revolution scenario, AWARD 4.0 is a special recognition which stands out among other awards and endeavours to promote solutions, products and services linked to 4.0 industry, developed in collaboration with the magazine Industrie 4.0. Companies selected for this first competition include Weerg srl for the SERVICES 4.0 category; Kaeser Compressori srl (winner of the 4.0 Award as well as the 4.0 MAINTENANCE 4.0 category), Glassup srl (4.0 DEVICES category), MCM SPA MACHINING CENTERS MANUFACTURING (4.0 DIGITAL CONVERGENCE category) and Mandelli Sistemi spa (4.0 PROCESSING category).
The cloud system is also drawing inspiration from innovation and design excellence for 4.0 industry. The winner of the Automation Contest of the magazine Automazione Industriale in collaboration with Fanuc Italia srl, is based on this type of system, jointly developed by the Milan Polytechnic University and Celada Group. The implementation of this innovative method on a Cloud-based platform enables the collection of data from sensors fitted onto machines to obtain monitoring functionalities, thus facilitating the evaluation of parameter feasibility for cutting in compliance with established limits, sourced from operator experience, resulting in the optimisation of processing times and costs.
Let us know turn to the universe of start-ups and spin-offs operating in the nanotech and advanced material sector. Nano2Start awarded first place to 4WARD360 (best start up), specialised in the field of construction nano and micro-technologies, and Dhitech (best video), a company which operates mostly by means of Applied Research and Training projects, with Regional, National and EU funding as support for Technological Innovation.
 Maruska Sabato, Project Manager at MECSPE – comments that "MECSPE, in addition to being an important business event for coming into contact with the very best of 4.0 manufacturing, is also a large container of tangible cases and experiences. For some time now, we have been committed to promoting innovation, by supporting companies which exemplify the digital transformation path in Italy. This is why during the next edition we will continue to spread a 4.0 culture by means of competitions, awarding not only excellence, but also valid ideas which haven't as yet been given the chance to materialise, to broaden knowledge and encourage development in this sense."
A technological and digitalisation process cannot take place without cultural growth, coupled with appropriate training. This is why following on from the success of LABORATORI MECSPE FABBRICA DIGITALE, La via italiana per l'industria 4.0, Senaf's tour recounting change underway in new factories through debates and 4.0 case histories, will continue on the 21st September in Brescia, followed by Turin, Catania, Parma (at the 18th edition of MECSPE at Fiere di Parma, from 28th to 30th March 2019), and Padua.
MECSPE 2018 in numbers
12 themed Halls, 28 demonstration units, 5 squares of excellence, 2,260 Companies present, 58 Conventions and Workshops, 110,000 sqm of exhibition space.
MECSPE Halls
Machines and tools – machine tools, tool and equipment; Digital Factory – information technologies for intelligent factory management; Motek Italy – factory automation; Power Drive – Systems- Parts – Mechatronics; Control Italy – metrology and quality control; Logistics – systems for logistic management, machines and equipment; Mechanical Subcontracting – subcontracting of industrial processing; Electronic Subcontracting – design, electronic processing, parts and accessories; Eurostampi, Machines and plastic subcontracting – moulds and moulding; the processing of plastic materials from rubber and composites; Additive Manufacturing – rapid prototyping and 3D printing; Processing and Finishing – machines and installations for processing and finishing of surfaces; Non-ferrous materials and alloys – aluminium, titanium, magnesium .
For further information
MY PR
Paola Gianderico – Davide Bruzzese
cell_ 331-7623732
tel_ 02-54123452 fax_ 02-54090230
e-mail paola.gianderico@mypr.it – davide.bruzzese@mypr.it