Italy's leading manufacturing industry fair updates dates for 21st edition: new appointment for the supply chain March 29-31, 2023 at BolognaFiere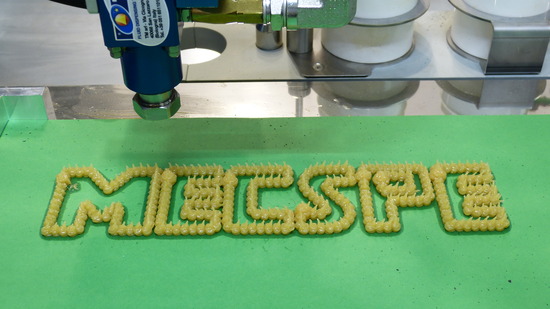 To meet the needs of entrepreneurs, for the first time the event will be held from Wednesday to Friday, excluding Saturday.
Many special initiatives dedicated to education, an asset on which the exhibition itinerary is developed along with digitization and sustainability
---
Milan, Aug. 29, 2022-Italian employment will rise again in 2022, reaching 60.1 percent, according to the latest Istat data. This is an encouraging sign for the domestic economy, which is facing quite a bit of turbulence in these very months. Against this backdrop, companies continue to need to upgrade their staff with skills that can anticipate, understand and keep up with the digitization and innovation needs of the industry. Not surprisingly, Senaf's latest MECSPE Observatory on the first four months of 2022[1] showed that the skill set is important to 53 percent of entrepreneurs in the manufacturing sector, and about 25 percent plan to hire, or have already done so, staff with adequate preparation to implement 4.0 transformation, while 48 percent have already trained staff at the company.
For more than two decades, MECSPE, the exhibition of technologies and innovations for manufacturing organized by Senaf, scheduled for Wednesday ,March 29 to Friday, March 31, 2023 , at BolognaFiere, has been concerned with providing companies with contacts and tools useful for 4.0 training for workers and new hires. The Training, in fact, is for MECSPE, along with digitization and sustainability, one of the three fundamental assets around which the exhibition itinerary within its 13 halls is built, through special initiatives, events, conferences and ad hoc spaces dedicated to the most urgent issues for businesses, which increasingly include testimonials, debates and speeches by high-profile experts.
It is in this spirit that in 2023 MECSPE's proposal in terms of special initiatives dedicated to education is updated. Starting with the confirmation for next year's MECSPE LIVE ACADEMY, the exhibition core of about 2,000sqm, which will be the focus of the innovations presented at the fair and the place of the most interesting trends in manufacturing, offering visitors the chance to explore the latest technologies through short educational paths. As revealed by the Customer Satisfaction survey administered to visitors after the last edition of MECSPE, the need to discover new products and find innovation at the fair is in fact the first goal of visiting the event.
But it doesn't end there. Companies will have the MECSPE YOUNG & CAREER space available during the days of the fair in order to promote the meeting of labor supply and demand for highly specialized figures that are often difficult for entrepreneurs to find.
The return of MECSPE in the spring will also be crucial for the involvement of schools, in particular the collaboration with CNOS-FAP, Centro Nazionale Opere Salesiane, which is strongly active in providing students with training tailored for business needs and focused on the development of professional skills, is renewed.
As always, then, the collaboration with ITS and university academia continues, for the involvement in the fair of young professionals ready to be integrated into the company.
"Over the years we have realized how much the training of new staff in order to ensure trained technical personnel is more and more a crucial aspect for the manufacturing companies taking part in MECSPE," says Maruska Sabato, Project Manager of MECSPE. "This is why we act as facilitator of the meeting between companies and young people ready to be introduced into the world of work, especially in a historical period like this one, in which skills in the company are at the basis of innovation and growth. Training spaces in the MECSPE program will therefore be very large, aiming to provide a quality service to exhibitors and visitors and, above all, to further expand the large network we have built over time. Also, for the new edition we wanted to shift the dates from Wednesday to Friday-with the exclusion of Saturday-to meet the needs of entrepreneurs."
Taking place concurrently with MECSPE will be METEF, the international expo dedicated to Senaf's aluminum supply chain, a sector central to sustainable industrial production. Finally, in 2023, MECSPE will double its date and will also be held in Bari from November 23rd to 25th with "Focus Mediterraneo" at the Nuova Fiera del Levante, with an edition dedicated to the development of 4.0 technologies and a proposal increasingly focused on sustainability and innovation of production processes.
The numbers of MECSPE 2022
39,348 trade visitors, 92,000 square metres of exhibition space, 2,000 companies, 2,000 square metres of the Cuore Mostra Fabbrica Senza Limiti, 16 special initiatives and conferences.
MECSPE Exhibitions
Machines and Tools – Machine tools, Equipment, Tools and Design Software; Machines, Materials and Sheet Metal Working – Bending, Stamping, Cutting, Assembly, Welding, Materials and Software; Digital Factory – Industrial Informatics, IoT, Industrial Sensing, Cloud-manufacturing, Automatic Identification Technologies, Applications, Devices, Instrumentation and Intelligent Components for Process Interpretation and Interconnection; Logistics – Packaging, Packing, Handling, Material handling, Lean manufacturing, Warehouse management software, Supply chain management, Safety systems, PPE, Outsourcing; Mechanical Subcontracting – Precision mechanical processing, Metal carpentry, Mechanical construction, Fasteners, Foundries, Small parts, Wire processing, Contract industrial processing, Micromachining; Electronic subcontracting – Cem (contract electronics manufacturer), Wiring harnesses, Ems (electronics manufacturing service), PCB (printed circuit board manufacturers), Engineering and design offices; Eurostampi, Machines and plastic, rubber and composites subcontracting – Plastics, rubber and composites processing, Machines and plants, Auxiliary equipment, Innovative materials, Moulding, Extrusion, Packaging, Blowing, Moulds, Models, Standardized components for molds, Design, Simulation and design software, Micromachining; Additive Manufacturing – 3D printing, Rapid prototyping, Rapid Manufacturing, Systems and services for reverse engineering, Additive technology, Materials, Services, Hardware: 3D printers and scanners, accessories, Simulation and design software; Treatments and Finishes – Surface Treatment Plants, Furnaces, Electroplating, Chemical and Electronic Processes, Washing, Metallization, Enameling, Galvanizing, Products and accessories for treatments, Heat Treatments, Painting; Non-Ferrous Materials and Alloys – Processing of non-ferrous materials (Aluminum, Titanium, Magnesium, Light Alloys), Die Castings, Foundries, Contract Industrial Processing, Technologies, Design, Engineering; Automation and Robotics – Automation and Robotics, Assembly, Assembly and Handling; Control and Quality – Certification and quality control, Metrology, Measuring instruments, Laboratory testing, Calibration, Analytical equipment, Vision; Power Drive – Mechanical power transmission devices, Hydraulics, Pneumatics, Mechatronics, Motion control, Maintenance, Compressed air.
For more information visit www.mecspe.com.
For further information
Press Office
MY PR – www.mypr.it
Roberto Grattagliano – cell 338 9291793 e-mail roberto.grattagliano@mypr.it
Caterina Conserva – cell 3401409543 e-mail caterina.conserva@mypr.it
Stefania Bonetti – cell 340 2513708 e-mail stefania.bonetti@mypr.it
[1] Methodological note: MECSPE Observatory was conducted by GRS Ricerca e Strategia on a sample of 514 Italian manufacturing companies, using the CAWI (Computer Assisted Web Interviewing) method.