MANUFACTURING AND ALUMINUM SUPPLY CHAIN MEET AT BOLOGNAFIERE FROM 29TH TO 31TH OF MARCH 2023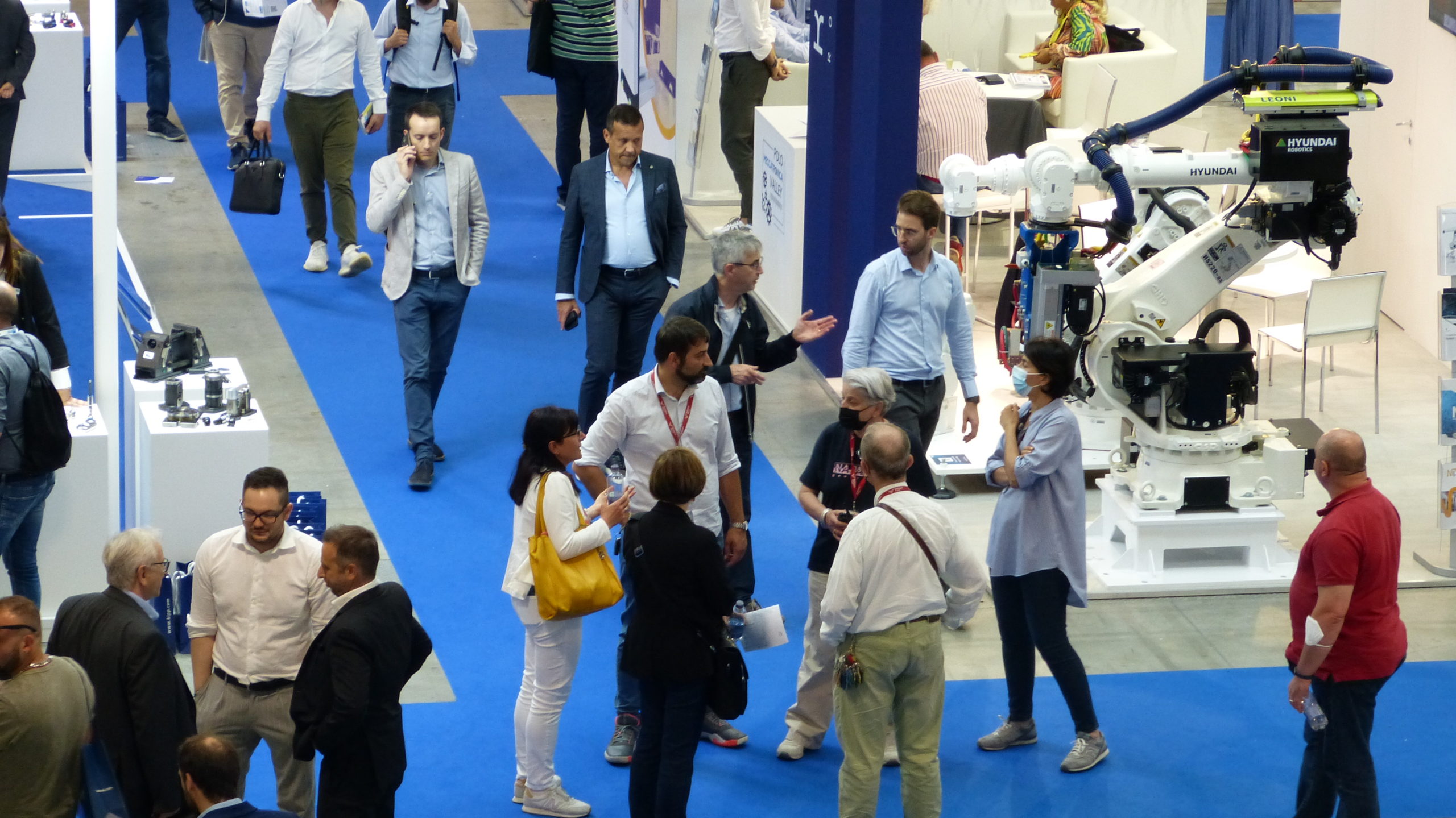 MECSPE doubles in 2023 with Bari edition "Focus Mediterraneo" scheduled Nov. 23-25 at the Nuova Fiera del Levante 
---
The 2022 edition closed to the satisfaction of the operators: 39.348 visitors and 2,000 exhibiting companies
Milan, July, 2022 – From 29th to 31th of March 2023, MECSPE, the exhibition of technologies and innovations for manufacturing, comes back to Bologna on its historic dates and for its 21st edition, which will be held in conjunction with METEF, the international expo dedicated to aluminum, both organized by Senaf. In 2023, MECSPE will double its date and will also be held in Bari from November 23rd to 25th with "Focus Mediterraneo" at the Nuova Fiera del Levante, with an edition dedicated to the development of 4.0 technologies and a proposal increasingly focused on sustainability and innovation of production processes.
The last edition ended satisfactorily, with the participation of 39,348 professionals and 2,000 exhibiting companies over an area of 92,000 square meters, confirming the important aggregation function performed by MECSPE and METEF, two trade fairs that over the years have become important poles for Italian and international industry, which were held just six months after the previous edition and in a time window, that of June, unusual for MECSPE.
Attention to the real needs of companies and the most competitive technological innovations on the market is what has distinguished MECSPE for 20 editions, which also relaunches in 2023 its strategic role in meeting, comparing and promoting synergies between professional operators in the specialized mechanics and Industry 4.0 sectors. The program, rich in content and special initiatives, will be developed in the three thematic strands of digitization, sustainability and education, which are critical for business growth.
Bologna will also host METEF, a true international marketplace where the main players in the aluminum supply chain, foundry and die-casting, transformations, processing, finishing and end uses, meet annually to discuss the sector's development possibilities, through the many specific in-depth discussions planned.
Sustainability is one of the most felt issues in the business world, and in this respect aluminum will play an important game in the future. In fact, light metal is referred to as the "metal of the future" because of its flexibility and ability to be infinitely reusable, features that are key to making the industrial sector greener and more efficient.
The figures of MECSPE and METEF 2022
39,348 trade visitors, 92,000 square meters of exhibition space, 2,000 companies, 2,000 square meters of the Cuore Mostra Fabbrica Senza Limiti, 16 special initiatives and conferences.
MECSPE Exhibitions
Machines and Tools – Machine tools, Equipment, Tools and Design Software; Machines, Materials and Sheet Metal Working – Bending, Stamping, Cutting, Assembly, Welding, Materials and Software; Digital Factory – Industrial Informatics, IoT, Industrial Sensing, Cloud-manufacturing, Automatic Identification Technologies, Applications, Devices, Instrumentation and Intelligent Components for Process Interpretation and Interconnection; Logistics – Packaging, Packing, Handling, Material handling, Lean manufacturing, Warehouse management software, Supply chain management, Safety systems, PPE, Outsourcing; Mechanical Subcontracting – Precision mechanical processing, Metal carpentry, Mechanical construction, Fasteners, Foundries, Small parts, Wire processing, Contract industrial processing, Micromachining; Electronic subcontracting – Cem (contract electronics manufacturer), Wiring harnesses, Ems (electronics manufacturing service), PCB (printed circuit board manufacturers), Engineering and design offices; Eurostampi, Machines and plastic, rubber and composites subcontracting – Plastics, rubber and composites processing, Machines and plants, Auxiliary equipment, Innovative materials, Moulding, Extrusion, Packaging, Blowing, Moulds, Models, Standardized components for molds, Design, Simulation and design software, Micromachining; Additive Manufacturing – 3D printing, Rapid prototyping, Rapid Manufacturing, Systems and services for reverse engineering, Additive technology, Materials, Services, Hardware: 3D printers and scanners, accessories, Simulation and design software; Treatments and Finishes – Surface Treatment Plants, Furnaces, Electroplating, Chemical and Electronic Processes, Washing, Metallization, Enameling, Galvanizing, Products and accessories for treatments, Heat Treatments, Painting; Non-Ferrous Materials and Alloys – Processing of non-ferrous materials (Aluminum, Titanium, Magnesium, Light Alloys), Die Castings, Foundries, Contract Industrial Processing, Technologies, Design, Engineering; Automation and Robotics – Automation and Robotics, Assembly, Assembly and Handling; Control and Quality – Certification and quality control, Metrology, Measuring instruments, Laboratory testing, Calibration, Analytical equipment, Vision; Power Drive – Mechanical power transmission devices, Hydraulics, Pneumatics, Mechatronics, Motion control, Maintenance, Compressed air.
For more information visit www.mecspe.com.
METEF'S SECTORS
Raw materials | Die casting | Nonferrous metals foundry | Ferrous metals foundry | Extrusion | Rolling | Engineering and simulation | Finishing and processing | Recycling
About METEF
METEF, the international expo for aluminum, metal foundry and innovative materials technologies, first launched in Italy in 1997 by Alfin-Edimet, is now part of the Veronafiere and BolognaFiere joint venture portfolio and stands out as the flagship event of the international metallurgical segment, with its modernized  concept, structure and location. METEF, for which Senaf has been appointed as the organizer, will be held concurrently with MECSPE, a landmark event for the manufacturing industry in Italy. The organizational and structural innovations of the new METEF aim to enhance, in the global market, a sector of extraordinary social and economic importance such as metallurgy and advanced light metal manufacturing, a segment that is undergoing great development and is already worth in our country, a turnover for the entire supply chain of more than 40 billion euros.
For more information visit www.mecspe.com.
For further information
Press Office
MY PR – www.mypr.it
Roberto Grattagliano – cell 338 9291793 e-mail roberto.grattagliano@mypr.it
Caterina Conserva – cell 3401409543 e-mail caterina.conserva@mypr.it
Stefania Bonetti – cell 340 2513708 e-mail stefania.bonetti@mypr.it