A.I.F.M. – Finishing Area
It was created with the aim to present the A.I.F.M. member companies operating in the sector of the electroplating processing and the general surface treatment field.
The idea was born in order to provide visitors with a meeting and discussion point on the main issues that finishes applicators and end-users have to deal with on a daily basis in their production activities: cleaning processes, innovative metal coating processes, solution filtration and transportation, waste treatment, baths and formulations, raw materials or machining, all this will be available in the A.I.F.M. Finishing Area.
The A.I.F.M. Area is also a space for information and updating: during the workshops scheduled during the exhibition, topical subjects will be discussed, including: new alternatives to the use of hexavalent chromium in the surface treatment and the latest solutions to reduce the PFASs pollution from groundwater and waste water, with particular attention to their application in the surface treatment industry.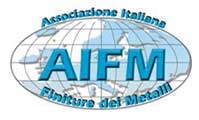 Partner: